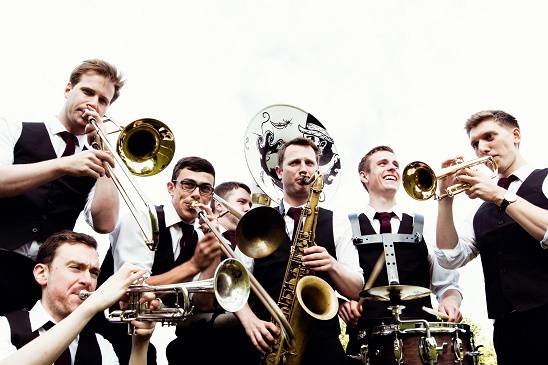 Hundreds of families are expected to celebrate the Queen's Jubilee in style at a Jubilee Proms and Picnic in Mansfield.
The free feelgood event is being organised by Mansfield District Council at Berry Hill Park on Friday 3 June, from 11am to 4pm, and will feature brass band music, 50s style dancing and retro children's entertainment.
Executive Mayor Andy Abrahams said: "The Jubilee Proms and Picnic will be a lovely family event for Mansfield and a great way to celebrate the remarkable reign of Her Majesty.
"Bring a chair and a picnic, watch the puppet shows, try your hand at the old fashioned games on offer, and relax while listening to some rousing music performed by two talented brass bands.
"What could be a better than spending happy times with the people you love and making some memories on this once-in-a-lifetime occasion?"
Pleasley Colliery Brass band will be performing traditional patriotic proms tunes, such as Rule Britannia, Land of Hope and Glory and Jerusalem, as well more modern tunes such as The Heat is On, from Beverly Hills Cop, and The Wellerman sea shanty, made famous by the singing postman Nathan Evans. The band will also show support for Ukraine by performing their state anthem.
Headlining the live music line-up will be Back Chat Brass, whose upbeat brassy pop, funk and hip hop set will get the party going in true British style. Among their repertoire are hits from Ed Sheeran, Whitney Houston and Beyonce.
The entertainment will have a 1950s theme with 50s style dancing, while for children there will be Punch and Judy shows with hand turned mechanical organ, marionettes, and Toby the dog, plus displays of dolls houses, bagatelle, and teddies.
Youngsters - and adults - can also try fun games from the era, including jacks, nine men's morris, snakes and ladders, skipping, hoopla, building blocks, ring hoops, hobby horse, and shove ha'penny.
Meanwhile the Make a Start team from the Palace Theatre will be providing games, songs, exercises, and child friendly craft activities.
Free hand waving flags will be given out by two Union Jack stilt walkers who will pose for selfies and entertain the crowds with their comedic act.
The Queen's Platinum Jubilee Beacon Tart will also be available to try for free - whilst stocks last.
The tart is a kind of quiche which has been specially invented for the Jubilee celebrations. It represents all four nations of the UK including cheese from England, potatoes from Northern Ireland, smoked salmon from Scotland and leeks from Wales.
The night before the big event, on Thursday 2 June, the town's Bentinck Memorial and Old Town Hall will be lit in royal purple.
This will be Mansfield's contribution to the lighting of community Jubilee Beacons across the country, at 9.45pm, to mark the start of the four-day Jubilee weekend to commemorate and reflect on the Queen's 70 years as Sovereign.
If anyone is organising a Jubilee event - maybe a street party for neighbours or lighting a beacon of their own, Mansfield District Council wants to hear from you.
Head to its website (link opens in new window) to find lots of useful advice about how to organise an event safely including how to apply for a road closure if required.
Nottinghamshire County Council is supporting event organisers by waiving fees associated with closing a road and providing traffic management equipment.
Although the deadline for applications has now passed, it is still encouraging organisers to get in touch to help ensure things go safely before the big weekend. You can do this on its website (link opens in new window).
Over 300 applications for road closures relating to Jubilee street parties have already been requested across the county, with about 20 happening in Mansfield district.
For more information about events in the Mansfield area, visit the council website (link opens in new window) where you can also submit details about local events for free publicity.