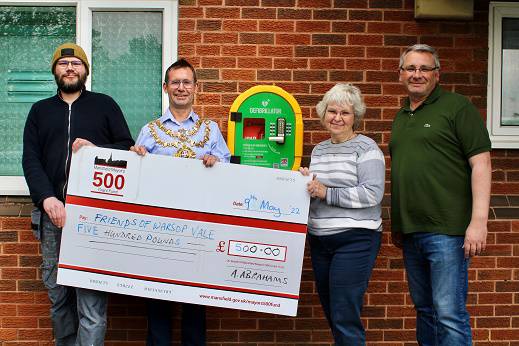 More than £20,000 has been shared out among good causes in Mansfield district in the latest distribution of the Robin Hood Lottery Community Fund and Mayor's 500 Fund.
A total of £13,732 has been shared out from the community fund among nine good causes and another £7,200 distributed from the Mayor's fund among 16 good causes.
Among the successful applications this time were two from the Friends of Warsop Vale.
The group was awarded £500 from the Mayor's fund to help pay for community events, and £2,000 from the community fund for a defibrillator to be placed on outside of the former Warsop Vale Community Centre in Carter Lane.
Two other groups, Sherwood U3A and The Fitness Box in Mansfield Woodhouse, were also awarded grants from the community fund to help them buy defibrillators. The Fitness Box was awarded another £500 from the Mayor's Fund to pay for defibrillator training.
Mansfield Harriers Athletics Club, based at Berry Hill Park, was awarded £2,000 from the lottery community fund towards refurbishing its female changing rooms, and £500 from the Mayor's fund to go towards athletic events.
Another beneficiary of the Mayor's fund and lottery community fund was Mansfield Wildlife Rescue which is using the grants to help move to new premises.
Founder Cheryl Martins has run the operation from her back garden in Mansfield Woodhouse for 18 years. Now it has taken on a lease from Mansfield District Council to rent a former Pleasley Vale plant nursery off Common Lane and is hoping to open the 4.2 acre site, plus a tea room, to the public next month.
The shelter cares for and rehomes hundreds of injured birds, hedgehogs, waterfowl and other wildlife, as well as orphaned puppies and kittens every year.
The larger premises means the group will now be able to care for more animals and larger wild animals, such as badgers, foxes and deer. The size and location of the new centre will also facilitate releasing animals back into the wild.
Ray Macpherson, a trustee of the group, said: "Moving to new premises has been a massive project and we can't thank everyone enough for supporting our appeal - not least the Mayor.
"The premises have needed a lot of renovation. We have been working closely with Notts Wildlife Trust and we hope the centre will link into the Meden Trail, which they manage."
The centre aims to be a major community resource offering experiences for special need groups as well as work experience placements for veterinary college students. This will build on work that Cheryl already does, visiting schools and colleges and providing animal welfare education.
Executive Mayor of Mansfield Andy Abrahams said: "I am pleased to be able to help all these good causes which are the social glue in our communities and do so much to improve the quality of life for people in this district including those who need that extra helping hand.
"It is especially pleasing for me to help Mansfield Wildlife Rescue finally move to new premises as this has been their ambition for some time and it will enable empty premises to be transformed into a worthwhile community resource."
The next round of awards from the Mayor's 500 fund will be in early 2023. Bids can be for a maximum of £500. Details about how to apply can be found at on the council website (link opens in new window).
Groups can apply for lottery community fund grants of up to £2,000 on the council website (link opens in new window). The next round of applications can be made between August and September.
Bids to both funds are scrutinised and approved by a panel of council officers and the Mayor.
With a top prize of £25,000, the Robin Hood Lottery currently has 431 supporters who buy about 892 tickets a week. From every £1 ticket sold, 40p goes into prize money and paying the lottery organiser, Gatherwell.
The remaining 60p goes to good causes; 10p of every ticket sale goes into the community fund along with an additional 50p, unless players nominate a specific fund as their chosen charity.
There are now 94 good causes registered with the Robin Hood Lottery. Since it started four years ago, it has sold over 131,000 tickets and paid out a total of £111,168 to good causes.
To play the Lottery, sign up online (link to Robin Hood Lottery website opens in new window). A full list of winners can be found on the lottery website (link opens in new window).

The successful applications to the Robin Hood Lottery Community Fund (CF) and Mayor's 500 Fund (MF) were:
Mansfield Harriers: £2,000 (CF) to refurbish hand washing facilities and stands in the female changing rooms and and £500 (MF) for athletic events.
NCHA (Nottingham Community Housing Association) Midworth Street: £1,000 (CF) and £500 (MF) for a fruit and vegetable garden, hanging baskets and social activities for service users to improve mental and emotional wellbeing.
The Fitness Box: £2,000 (CF) to purchase a defibrillator and trauma kit, and £500 (MF) to train for volunteers, such as allotment holders, residents, staff at the gym, and park attendants, in how to use the equipment.
Friends of Warsop Vale: £2,000 (CF) to purchase a defibrillator, trauma kit and cabinet and to install the equipment on the wall of the Old Community Centre in Warsop Vale, and £500 (MF) to put on community events.
Hetty's: £2,000 (CF) and £500 (MF) to help with the core costs now that the opening hours of the group, which helps families affected by drugs or alcohol, have been extended.

Mansfield Wildlife Rescue: £900 (CF) to buy equipment for a new tea room and help establish an outside seating area, and £500 (MF) for operational costs.

Sacred Sound Healing Arts Centre in Mansfield: £2,000 (CF) to supply services, including a foodbank and help to the homeless.
Sherwood Archaeological Society: £430 (CF) to purchase a modern projector so the group can continue with its programme of lectures.
Sherwood U3A: £1,402 (CF) to buy a defibrillator and a trauma kit and provide relevant training for the equipment.
Men in Sheds: £500 (MF) for woodworking machinery, wood and tools.
Pleasley Christmas Lights switch-on: £500 (MF).
Charlotte Henshaw, paralympian athlete: £500 (MF).
APTCOO: £500 (MF), to help children with complex needs.
Maun Refuge: £500 (MF) to help its work with refugees, language classes and community involvement and a 5K run in Mansfield Woodhouse.
Ukranian Disaster Appeal: £500 (MF).
Classic Car Show: £500 (MF) to help stage the event at Berry Hill Park.
Frenbot: £500 (MF) to help stage its charity football match which support wards at King's Mill Hospital.
Ladybrook Children's Centre: £100 (MF) to buy Easter eggs for children who use the centre.
Red Cross Ukranian Appeal: £100 (MF).