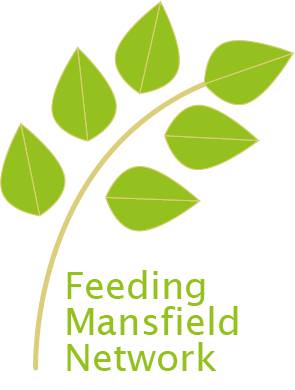 Executive Mayor of Mansfield Andy Abrahams has praised the student winner of a competition for designing a simple but powerful logo for the Feeding Mansfield Network.
Alberth Pirscoveanu, aged 22, is studying a BTEC National Extended Diploma in Creative Digital Media Production (Digital Design and Games) at Vision West Notts College in Mansfield, and went for an eye-catching leaves design.
Mayor Andy, who presented a £50 shopping voucher to Alberth, along with certificates to all competition entrants, said: "The logo competition may just have been about two simple words - Feeding Mansfield - but it has a lot of meaning behind it because it has been a real struggle for many people during the pandemic to make ends meet.
"For children, not having a square meal before coming to school can affect that child's ability to learn during the day and lead to detrimental behaviour in class so it is important that at the very least every child starts the day with a decent breakfast.
"Alberth's design sends a powerful message that resonated with the aims of Feeding Mansfield Network.
"The network is about more than tackling poverty and food insecurity. It is also about engendering independence and resilience among local people in providing families with access to affordable and healthy food through a variety of channels.
"These channels are open to anyone and we would encourage anyone who feels in need of support for whatever reason to make use of them."
Tony Hall, a design and media learning company specialist at the college, said: "The students worked really well on this project. There was a mixed bag of ideas as there were both level 1 and level 2 students working on it, and there was a lot of enthusiasm which was really good to see.
"Logo design really is the bread and butter of designer's work – but just because it's a logo doesn't mean it's a simple task."
The Feeding Mansfield Network, which is led by Mansfield District Council, was set up about a year ago.
Its aim is to work in partnership with various local agencies to support growing numbers of households struggling with food poverty and creating local solutions within their communities and enable greater access to both healthy and affordable food for the residents of Mansfield.
Among its most significant achievements in the past year is supporting the development of a new community charity called Growing Mansfield, which has been distributing locally grown allotment produce to community food schemes.
So far "Crop Drop" has seen fruit and vegetables delivered to Bull Farm FOOD Club and Ladybrook Community Share scheme with plans to expand the project to other outlets.
Crop Drop not only provides residents with affordable healthy food supplies, it also means local people are eating food that has clocked up fewer food miles which is better for the environment.
Feeding Mansfield has also worked with the national charity Family Action to set up FOOD (Food On Our Doortstep) clubs in the town centre, Bellamy and Oak Tree estates, and Ravensdale area, Bull Farm estate and Mansfield Woodhouse.

These clubs are open to any resident living or working within 15 minutes of the club and members can purchase a bag of good quality food items every week worth between £10 to £15 for just £3.50.
As well as providing families with access to food at a low cost, the clubs also reduce the amount of usable food that end up in landfill. More details about the FOOD Clubs and other food support schemes can be found on the Food Support page of the council website.
The priorities of the Network include:
Creating food initiatives that provide healthy food at low cost and support individuals and families who have been reliant on food banks.
Encouraging enthusiasm and knowledge to grow and cook food.
To work with local allotment growers to develop Crop Drop initiative so that families have access to healthy, affordable produce.
Distributing locally grown fruit and vegetables via volunteer drivers to local charity projects, foods clubs, schools and colleges.
Working with Nottinghamshire Childhood Obesity Trailblazer to help families with early years children.
Helping to co-ordinate the delivery of the Holiday Activity and Food (HAF) scheme to priority areas and groups.
Developing support approaches to help people in the longer term out of cycles of poverty and food insecurity.
Among the organisations in the Network are: Nottinghamshire County Council Public Health Department, Family Action, the Salvation Army, Mansfield Soup Kitchen, Ladybrook Enterprises, Nottinghamshire County Council Youth Services, Chesterfield Road South Methodist Church, Mansfield Citizens Advice, Arena Church, Schools Out, CAR Lifespring church, Feel Good Gardens, A Place To Call Our Own, Fare Share Midlands, Your Health Your Way and Mansfield Homeless Network.
More information about the Network is available by emailing Helen Marriott, Food Co-ordinator for the council hmarriott@mansfield.gov.uk or Dominic Ayton, Health and Wellbeing Officer dayton@mansfield.gov.uk.