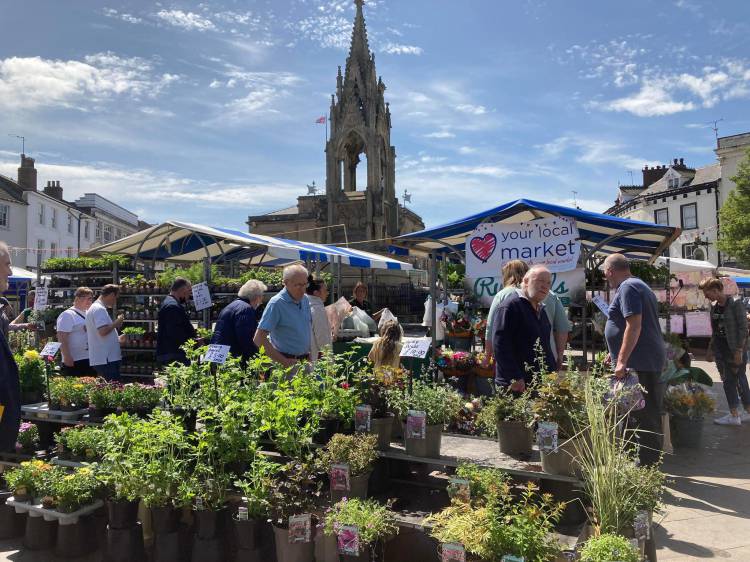 Mansfield's Executive Mayor Andy Abrahams is calling on people to show their support for Mansfield Market, saying it could be the breeding ground for the next rags-to-riches success.
As part of the national Love Your Local Market campaign, which runs from Friday 12 May to Saturday 27 May, there are free rents to new stallholders throughout May.
New stall holders we are on the look-out for include those who sell pet products, baked goods, cheese and household / DIY items.
Mansfield District Council, which runs the market, hopes the promotion will encourage new traders and start-up businesses to take stalls, support them while they get established and attract more shoppers to visit the historic market and town centre.
Current regular traders will also get a discount per stall for 10 days as part of the incentive.
All the market stalls have fixed roofs and lighting and usually start from just £7 a day. The council actively ensures its market stall rates remain competitively priced within Nottinghamshire and the surrounding areas to help introduce new stall holders to the Market Place and support our regular traders.
Launching the initiative, Mayor Andy said: "There has been a market in Mansfield for very nearly 800 years and we would like to see this continue for many more years.
"Buying from independent traders on markets is a great way to support your local economy and local jobs, and even, potentially, nurture big business talents.
"Mansfield already has an established reputation for being a fertile ground for business start-ups.
"Wouldn't it be brilliant if our market could be the same breeding ground for the entrepreneurial stars of the future as has happened elsewhere?
"Marks & Spencer, Dunelm, Lord Alan Sugar are just a few of the big names who started out trading from market stalls."

On Saturday 20 May the celebrations for Love Your Local Market will continue with balloon modelling, walkabout entertainment and free craft activities to take part in from 10am to 2pm.
As well as offers available during this month-long campaign, traders are supported by the council all year round with other benefits. Incentives include free use of parking and toilets in the town as well as waste collection at the end of the day. Discounts are also available from January to March for the annual Kipper Season, and there are also incentives for new regular traders when setting up a business on the market through the incubation unit scheme, which offers free rent for 3 months, then 25% rent for months 4-6, 50% rent for months 7-9 and 75% rent for months 10 – 12. More information can be found at www.mansfield.gov.uk/trading-mansfield-market/incubation-unit-terms-conditions (opens in new window).
The market is open five days a week from Tuesday to Saturday 9am to 4pm, complete with a food court, Tuesday and Wednesday markets are mixed goods and Thursday, Friday and Saturday are new goods. The third Tuesday of each month is the Farmer's market. There are regular additional markets held on the Market Place too, including vegan markets, and antiques and collectables markets.
Anyone interested in taking a stall should email tcm@mansfield.gov.uk or call 01623 463073 to discuss availability, product lines and numbers of stalls.