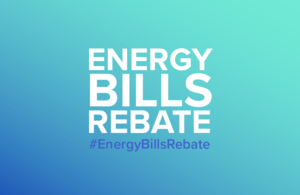 The Council Tax Energy Rebate is part of a package of measures announced by the Government to support to help households with rising energy bills.
The Council Tax rebate will provide a mandatory one-off payment of £150 to households living in Council Tax bands A – D. Payments will start to be made during April 2022.
The Council Tax rebate does not have to be paid back.
The Council Tax Energy Rebate It is not a reduction in the amount of Council Tax you have to pay, it is just using Council Tax information held by local councils to identify eligible households. This is why it is not shown as an amendment to any calculation on your 2022/23 Council Tax bill.
If you are not sure what Council Tax band you are in, please refer to your latest Council Tax bill or you can check your Council Tax band (opens in new window). If you would like to request a review of your Council Tax band, you will need to explain why you believe the Valuation Office band is incorrect and provide supporting evidence. For further support, read the Government's challenging your Council Tax band guidance (opens in new window).
Discretionary funding has also been provided to the Councils to support households who are in need but are not eligible for the Council Tax Rebate, known as the Discretionary Fund.
Mansfield District Council will be administering both the £150 Council Tax Rebate and the Discretionary Fund. Details of Mansfield's discretionary scheme including how to apply will be available on this page once the details are finalised.
---
Council Tax Rebate Eligibility
Households are eligible for the mandatory £150 rebate where, on 1 April 2022, they are liable for Council Tax on a property which is in Council Tax bands A-D and which they live in as their main home (Second homes and unoccupied homes are excluded). This includes those who receive Local Council Tax Support, even if their Council Tax bill for the year is less than £150 or £0.
Where the occupants of a property in bands A - D are exempt from Council Tax on 1 April 2022, they will also be eligible if the property falls in one of the following classes of exemption:
Class N (students – other than HMOs for Council Tax purposes),
Class S (under 18s),
Class U (people with a severe mental impairment),
Class W (annexes occupied by a dependent relative)
Only one £150 payment will be made per household, regardless of the number of occupants or liable Council Tax payers.
Where the council's records relating to the liable taxpayer(s) or residents' circumstances in respect of 1 April 2022 are retrospectively updated, the council will take reasonable steps to pay or clawback payments.
Where the property band recorded on a valuation list is amended retrospectively to 1 April 2022, for example as a result of a successful appeal made to the Valuation Office Agency ('VOA') that concluded after 1 April 2022, the council will not be required to pay or clawback payments. The exception is where a property is a new build and awaiting an official banding from the VOA. In these cases, eligibility will be determined based on the official band subsequently allocated by the VOA, where it has an effective date before or on 1 April 2022.
---
How will the Council Tax Rebate be paid?
Direct Debit Payers
Where the council holds active Direct Debit information for the Council Tax payer, we will in most cases make an automatic payment into the bank account. Due to the volume of payments being made through our systems, they will be issued in batches.
There may be times where we are unable to pay automatically due to the validation checks required by the Government. This may be for example:
Because the name on the bank account does not match the name of the person on the Council Tax bill, or
The direct debit has recently been set up and had not had any payments collected from it when we extracted the information from our system to make the energy rebate payments.
In such cases you will be able to apply online once the online form is available.
Where multiple residents of an eligible household are jointly named on the Council Tax bill, and the council holds live Direct Debit instructions for one of them, the full £150 payment will be made to the bank account of the direct debit payer, it will not be split.
Please be aware that if the bank account is overdrawn, your bank may use the rebate payment to pay off against any overdraft. You may wish to exercise your right of appropriation to prevent this from happening. A sample letter that you can use to tell your bank how you want the money to be used can be found on the National Debtline website (opens in new window) or you can ask your bank for advice.
Non Direct Debit customers
Where the council does not hold live Direct Debit instructions for an eligible household, we will need to gather the information needed to make the payments and an online application form is currently being devised. We will update our website as soon as we have a process in place.
The council will offer payment into bank accounts or as a £150 credit to an eligible household's Council Tax account as a payment option where it is unable to pay by alternative methods.
No payments will be made under the mandatory scheme after 30 September 2022.
---
Discretionary Fund
Mansfield has received £229,800 in discretionary funding and the council is required to determine locally how best to make use of this funding and is devising guidelines setting out the eligibility criteria for the Discretionary Fund and will update this page as soon as the guidelines and application process are available.
No further discretionary funding will be available once the allocation is spent and no payments can be made from the discretionary fund after 30 November 2022.
---
Updates
Please refrain from contacting us so we are able to focus on processing payments. Keep up to date by checking this webpage, signing up for council news and events (opens in new window) and follow us on Facebook (opens in new window) and Twitter (opens in new window).
---
Further information
If you still have unanswered questions about the Council Tax Energy Rebate, please see the Governments factsheet (opens in new window) for answers to the most frequently asked questions about the scheme.
---
Other support available
The Government also announced a £200 discount on energy bills this autumn for domestic electricity customers which has to be repaid automatically over the next 5 years. For further information about the scheme, please visit the Governments website (opens in new window).