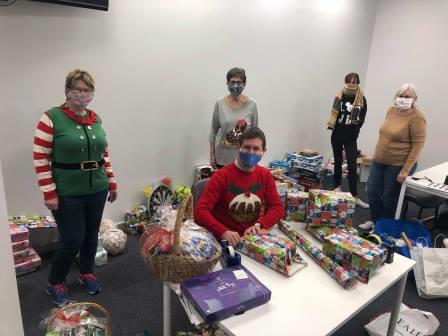 It is going to be a very happy Christmas for some families in Mansfield, thanks to the generosity of the public and businesses who helped smash the targets of two community appeals.
Mansfield District Council's Sponsor a Bauble and Secret Santa appeals closed yesterday (10 December) after raising a whopping £3,846 - that's £1,846 more than the original target.
A dozen 'elves' from the council worked for three days to wrap around 628 gifts for men, women and children. They also packed 200 food hampers.
The gifts will now be distributed to families in need by Mansfield Children's Centre Service and the council, and the hampers will go out via the council's FOOD Clubs. All the gifts for the Secret Santa Appeal were bought from or donated by local businesses and local people.
Four charities will each receive £377 from the Sponsor a Bauble appeal. Those that will benefit are the Beacon Project and Crossroads Trust, which both support rough sleepers and people at risk of homelessness in Mansfield; the Jigsaw Support Scheme, a local organisation which helps people with dementia and hoarding issues; and the local Gift of Christmas community group, which has a Christmas hamper appeal.
Thank you to Mansfield Rotary Club for donating £1,000 worth of food, while Rotary4Food is donating a further £250 worth of goodies for food hampers.
Executive Mayor Andy Abrahams, who joined the gift wrappers on Wednesday (9 December), said: "I would like to thank all those who donated to the appeals for helping to bring some cheer to those most in need during this most difficult of Christmases.
"Thanks should also go to the elves for all their hard work in buying and wrapping the gifts. It's been a marathon effort! I would especially like to thank Abbey Clarke, the council's Events Officer, who has worked tirelessly to organise and co-ordinate these successful appeals.
"The extra money raised for the Secret Santa Appeal means we have been able to buy more gifts from local businesses, while the extra raised for Sponsor a Bauble means we have been able to donate more money to local charities to help those facing food insecurity.
"I am so proud of Mansfield. It always rallies and rises to the challenge when there are people who need that helping hand."
The council would like to thank the following businesses for supporting the campaigns by donating gifts or providing discounts:
- Asda (Forest Town)
- HOME CO.
- Becky's Bookshelf
- Jemma's Body Shop at Home
- Morrisons
- B&M Mansfield
- Smyths Toys Superstores.
Smyths is also providing a prize of £100 to spend in store as part of the council's "How many baubles" competition on Facebook. Make sure your entry is in by Monday 14 December for your chance to win. Visit our Facebook page.