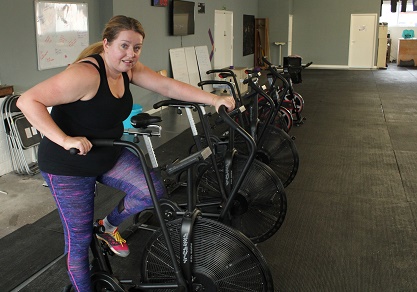 Oak Tree Leisure Centre is celebrating, following the announcement that the facility has once again made the final at the upcoming ukactive awards.
It has been shortlisted in the category, Regional Club/Centre (Midlands), a prize the facility has won an incredible three times already – 2018, 2019 and 2021 (2020's was cancelled due to COVID-19).
Held in partnership with Active IQ, the shortlist for the ukactive Awards 2022 includes fitness and leisure operators of all sizes; local councils; prominent suppliers; leading universities; sports bodies; and charities. All major leisure operators enter these awards, so Oak Tree's achievement in winning three times and making the final on four consecutive occasions is even more noteworthy.
The winners will be announced at a glittering awards ceremony at the International Convention Centre in Birmingham on Thursday 30 June, with hundreds of leaders from the worlds of fitness, health, leisure and sport expected to attend.
Brian Taylor, Chair of More Community Leisure Trust, which runs the facility and two others in the town on behalf of Mansfield District Council said: "Oak Tree Leisure Centre has a special place in this community. People know they'll get a friendly welcome and be supported at every step of their fitness journey when they come to this excellent community-focused facility.
"It's quite an achievement to make the final at this event four times in succession, considering the many centres Oak Tree are competing against each year in the region. Good luck to the team for the 30th!"
Huw Edwards, CEO of ukactive, said: "We are delighted but not surprised by the number of incredible entries and stories we have received for this year's ukactive Awards, which is testament to the unquestionable resilience and innovation within our sector.
"We are extremely proud of all of our members, who have worked so hard in rebuilding the sector and our nation's health following the challenges during the COVID-19 pandemic.
"Congratulations to all the finalists and we look forward to seeing celebrating our industry at the awards ceremony this summer."
Cllr Andy Burgin, Portfolio Holder for the Environment and Leisure, added: "Well done to Oak Tree Leisure Centre for this fabulous achievement. Making the finalists' shortlist in these awards really is no mean feat – especially four times in a row and when they are up against other prestigious centres right across the region."
Oak Tree Leisure Centre, Rebecca Adlington Swimming Centre and the Water Meadows Fitness & Swimming Complex are operated by More Leisure Community Trust, in partnership with Serco Leisure and on behalf of Mansfield District Council.
Press release issued by Serco on 23 May 2022
About Serco
Serco is a leading provider of public services. Its customers are governments or others operating in the public sector. For more information about Serco Leisure, visit its website (link opens in new window).
About More Leisure Community Trust
More Leisure Community Trust manages Oak Tree Leisure Centre, Rebecca Adlington Swimming Centre and Water Meadows Fitness and Swimming Complex on behalf of Mansfield District Council. The trust is an independent not-for-profit legal entity that partners with Serco Leisure Operating Ltd, who deliver services on their behalf through a Managing Agency Agreement. Find out more at the trust's website (link opens in new window).
About ukactive
Ukactive exists to improve the health of the nation by getting more people, more active, more often. It serves over 4,000 members and partners from across the public, private and third sectors, from multinational giants to local voluntary community groups. For more information about the organisation, see its website (link opens in new window).