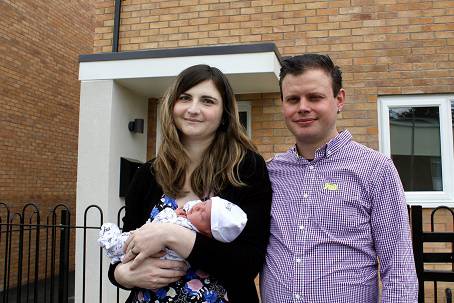 As Carrie Green was waiting for the imminent arrival of her first child, she spotted the opportunity on a council house website to bid for a nice looking family home in Mansfield.
Two days later, as she held baby Leo in her arms, she could hardly believe the news that she and husband Daymun were being offered the chance to start their family life in that brand new energy efficient council house.
Carrie, 29, and Daymun 39, had been looking for a council home for some time and are thrilled to be among the four families offered tenancies for one of the newly built Mansfield District Council semis in Saundby Avenue. The family moved in yesterday (15 May).
On first sight, they were, for Carrie, just more council homes she would bid for and probably not get. She did not initially know they were built to a high-spec energy efficient Passivhaus design, to a standard held by just 170-odd homes nationally and the only ones of their kind in Mansfield.
Reliving the moment she saw them advertised on council's home letting website, she said: "I woke up on the 4th of May and logged onto Homefinder, like I have every Wednesday, and saw the notice about the houses being advertised on Saundby Avenue.
"I had a look on Google maps and the street looked lovely so I emailed to express my interest. I was 39 weeks and three days pregnant and was eager to move so that our little one has best start in life."
Later the same day Carrie started to get pain and bleeding, and after suffering a miscarriage previously, she worried for the "rainbow baby" she was carrying and headed straight for King's Mill Hospital.
It turned out she was in labour and two hours later, at 10.16pm, Leo Green, entered the world weighing a healthy 9lb 11oz.
"Later on, at 3am, as I was shaking with the adrenaline and the amazement rushing through me of what I had just done, I looked at my phone and saw a reply from the council, saying we were under consideration for the property," said Carrie.
She replied to the email to say she had just given birth and the next morning, council Housing Solutions Team Leader Paul Dawson responded by expressing his congratulations. The following day he was able to give her a double dose of happy news - their bid for Saundby Avenue had been successful.
"We are so thrilled! It's the icing on the cake - a beautiful baby boy and an amazing house," said Carrie, a carer for her husband who has a learning disability.
"We met 12 years ago and married each other seven years ago and have been in love ever since. We have been living in a one-bedroom second-floor flat and have had issue with anti social behaviour so we were worried about bringing our son home. Now we all looking forward to life in our forever home.
"We can't wait to turn our house into our home. I'm looking forward to everything: having a garden for fresh air, in an amazing area where we don't have to worry about anti-social behaviour - a safe place to raise our son in love.
"Plus I won't have to climb up two flights of stairs with a pram!"
She added: "I've been researching the Passivhaus design and it's all very interesting. Being an energy efficient home means bills won't be as high.
"I've always been really conscious about my carbon footprint. This home will help us contribute to the protection of the environment. I'd love to learn all the tricks to make the most out of our beautiful special home.
"I'd like to say thank you to the council so much for the opportunity to live somewhere we can be a loving family together - with a special thank you to Paul Dawson and the whole Homefinder team for helping us. You truly care!"
After months of planning, design and construction work, the houses in Saundby Avenue were officially handed back to the council by the contractor, Woodhead Construction, on 3 May and within 24 hours were advertised on the council's Homefinder site.
Cllr Marion Bradshaw, Portfolio Holder for Safer Communities, Housing and Wellbeing, said: "We are delighted to hear the heart-warming news that these fantastic new homes are already set to improve the quality of lives of those fortunate to be offered a tenancy.
"Having a home which is affordable and energy efficient, and built in a way that will accommodate a family for the whole of their lifetime, makes so much sense, as well as offering security for those tenants.
"We wish Carrie and Daymun all the best and many years of happy family life ahead in their forever home."