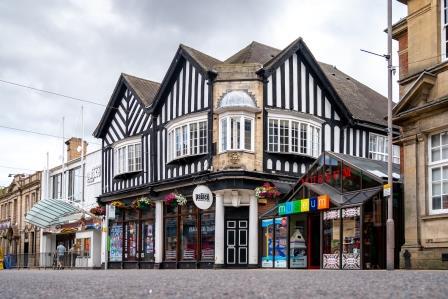 Mansfield Museum and the Palace Theatre are welcoming back schoolchildren with an exciting programme of educational experiences.
Supporting schools with learning opportunities has been an important aspect of Mansfield District Council's Cultural Services team over the years.
Since September the team has delivered 34 workshops to a total of 1,077 pupils either in their schools, online or at the museum and theatre.
The team has developed a comprehensive set of in-person and online experiences to support learning, from caring for the environment, to what life was like for ancient Egyptians, Romans, Greeks and Vikings.
The workshops cost from just £60 for two hours or £120 for a full day and can be delivered in school, online or at the museum and theatre. Some schools have enjoyed a shared package across both venues. The theatre is also encouraging schools to set up weekly after-school sessions for drama or dance.
Another scheme, called START (Secondary Transition and Resilience Training), is run in partnership with Nottingham Trent University, and aims to help Year 6 pupils prepare for their transition to secondary school.
Sian Booth, the council's Cultural Services manager, said: "There's nothing we love more than welcoming children to our theatre and museum especially after the pandemic disrupted the delivery of our educational service.
"Seeing children come to life, and creating those jaw-dropping, lightbulb, 'wow' moments is what it's all about and we are so pleased to be back in a position to see them in person.
"School trips and educational visits are a powerful tool which can be used to enhance the development of personal, social and emotional skills of all learners.
"Our flexible programme of workshops, for Foundation Level up to Year 6, can be delivered virtually, pre-recorded or live in the classroom.
"They are suitable for all children, including those with English as a second language, or with additional needs or disabilities through unique, kinaesthetic learning opportunities.
"We've come up with really robust and Covid-secure plans so that children can visit to us, or we can go into schools. Our Museum on Tour experience, for instance, takes artefacts into schools.
"And, of course, we continue to deliver Mansfield Palace Youth Theatre with weekly classes for 5- to 21-year-olds, with each group performing in an annual production."
Other activities for children and young people supported by the Cultural Services team include a children-in-care programme, in partnership with Inspire Youth Arts and Captivate.
There is also Mansfield Townscape Heritage project, funded by the National Heritage Lottery Fund.
The schools' brochure is on the museum website (link opens in new window) or contact Christopher Neil, Education Manager, by emailing him (link opens in email app) or calling 01623 412921; or Rachael Boaler, Education Officer, by emailing her (link opens in email app) or calling 01623 463088.
What's on offer
Among the Museum experiences available are:
Welcome to Mansfield Museum - a fun, hands-on first experience of visiting a museum.
Mindfulness for Children - helping children manage emotions, understand their thoughts and feel good about themselves.

All in the Game - looking at toys and games from the past
Who Lives Where? - an introduction to how and why different plants and animals are found in different environments.
Eco Dudes - taking a close look at litter and how it is affecting our local environment.
Curious Curators - taking a look behind the scenes of the museum and how its collections are looked after.
Tudor Times - exploring life and leisure in the age of Shakespeare.
Made in Mansfield - a chance to learn about local industrial heritage.

Theatre experiences include:
Bespoke visit with a tour and a fun educational workshop
A practical workshop bringing a book of the school's choice to life
An introduction to Shakespeare

Enjoy Playing with Language - a workshop in which a poem or piece of writing is dramatised, encouraging students to be confident with different texts or exploring their own writing
A Character from History - this workshop helps students understand and imagine a key period by meeting a historical figure of their choice, such as Julius Caesar, Robin Hood, Phileas Fogg, or a Second World War soldier.