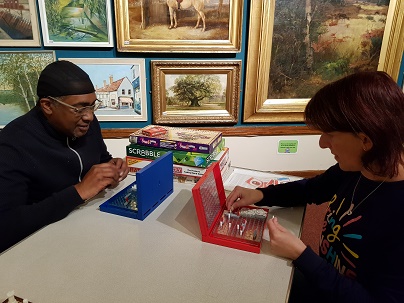 Mansfield Museum has a full line-up of autumn events and exhibitions coming up with something to suit all ages.
The award-winning Museum hosts many permanent and temporary exhibitions and aims to improve the lives of local people through various community projects, aimed at all sections of society.
As part of the council's Wellbeing priorities, it has programmed regular Health and Wellbeing festivals as well as a monthly Reminiscence Tea Room for families living with dementia. The museum is aiming to restart the tea room events in the near future.
Half term activities
Half term activities will be running from 19 to 29 October, 10am till 12pm and several will run in tandem with shows on at the Palace Theatre.
Tuesday 19 October: As The Palace Theatre presents an interactive family puppet show, Dragons and Mythical Beasts, a craft session in the museum will be showing youngsters how to make their own craft dragons and unicorns.
Wednesday 20 October: Make cute hedgehogs with autumn leaves.
Thursday 21 October: Woodland animal mask-making session.
Friday 22 October: Create an autumnal wreath.
Tuesday 26 October: Get ready for Halloween and make a tissue box monster.
Wednesday 27 October: White Post Farm Road Show. Pre-booking essential.
Thursday 28 October: As the Palace Theatre presents the puppet show play The Unexpected Tales of Darwin the Chimp, youngsters can create their own monkey mask at the museum.
Friday 29 October: As the theatre prepares for Halloween with a screening of the family film Hocus Pocus, the museum will be showing how to make your own Halloween witch.
Games Café
For people who love a good game of Monopoly or Scrabble, the Games Café is also running at the Museum on Thursday lunchtimes in October and November.
It will be held 1pm till 2.30pm on 7 October, 21 October, 4 November, and 19 November offering a cup of tea and a variety of old fashioned board games. No booking is required, just come along.
Forgotten Frames Exhibition
The Museum is also extending its popular Forgotten Frames exhibition until January 2022. It can be viewed without appointment at the venue's usual opening times: Tuesday to Saturday, 10am to 3pm. The fascinating exhibition puts on show seldom seen artworks in a variety of media displayed in a Victorian-style floor-to-ceiling gallery.
In order for it to reach more people, particularly those acutely affected by COVID-19, including the over-70s and vulnerable adults, the exhibition was converted to large printed artworks and taken on the road last year. It was displayed in gardens, car parks and courtyards of ten local venues including sheltered housing complexes.
Christmas
Looking further ahead, the Museum is again planning to turn its entrance arcade into a stunning avenue of themed Christmas trees, each one unique and created in the community.
Local businesses, school, playgroups, church organisations and community groups, care homes, or simply creative groups of friends are being asked to create yuletide trees to go on display.
The trees will remain in place throughout December and the most inventive and creative will win a prize.
Councillor Stuart Richardson, Portfolio Holder for Regeneration and Growth, said: "The trees can be any theme people want to create. Maybe it will be based around recycling or the environment or perhaps it could be made of books or a knitted tree?
"The Museum can't wait to see all the designs and they will make a wonderful and quirky festive statement.
"It's great that our Museum is getting back into its creative stride again after having to close its doors for so long. I hope people take some time to enjoy what is a fantastic resource in Mansfield.
"They can even volunteer to help out which is a really rewarding way to enjoy all that the Museum has to offer."
Volunteering
Volunteers are an invaluable part of the Museum and it is always on the lookout for people who can spare four hours a month.
It is especially seeking people to help out at the Reminiscence Tea Room events. The role involves serving tea and coffee and helping with the set-up and packing away of the event and chatting with visitors and helping them join in with crafts and games.
Contact Kirsty Sanders, Museum Development Officer, on 01623 463136 or email her at ksanders@mansfield.gov.uk if volunteering is something which interests you.
For more information about Museum events please call 01623 463088 or email the team at mansfieldmuseum@mansfield.gov.uk.