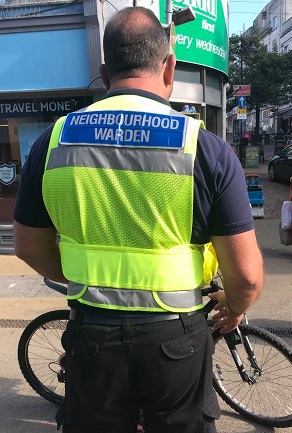 Mansfield District Council joined forces with Nottinghamshire Police and other support agencies for a dawn-till-dusk day of action to tackle town centre crime and anti-social behaviour.
Operation Amberstag saw uniformed and plain-clothed police officers, supported by PCSOs, the council's Community Safety team and Nottinghamshire County Council traffic wardens maintain a strong presence in the town centre throughout the day. Similar actions will be planned for the coming months.
More than 20 police officers targeted shoplifting, antisocial behaviour and casual drug use which were identified as key local concerns raised by residents and businesses in the town centre.
The council response, co-ordinated by the Anti-Social Behaviour team, focused on people breaching the town centre's Public Spaces Protection Order (PSPO).
The operation started at around 6am on Thursday 16 September with council officers and outreach workers from homelessness charity Framework engaging with any rough sleepers causing obstructions and signposting them to support.
As shops, businesses and market stalls opened, the police focused on shoplifting and aggressive begging while the council Neighbourhood Wardens stopped people cycling through pedestrianised areas and asked them to dismount or risk a £100 penalty.
In the afternoon and early evening attention shifted to nuisance parking by private hire and delivery drivers, and alcohol and drug-fuelled antisocial behaviour. Licensing officers from the police and council visited numerous premises to ensure that they were selling alcohol in a responsible way.
Youth workers from Nottinghamshire County Council were also on hand to engage with school children and promote the myplace Young People's Centre at Westfield Folkhouse in Mansfield.
Executive Mayor of Mansfield Andy Abrahams said: "The council was pleased to support the police and our other partners in the town centre in Operation Amberstag which we hope will promote public confidence that we take criminality and anti-social behaviour issues in our town centre very seriously.
"It is one of the council's top priorities for people who live here, work here and visit our district that they feel safe.
"Our Neighbourhood Wardens and Community Safety teams do a brilliant job at encouraging people to behave responsibly and with respect for others.
"We prefer to use the carrot and cajole people into doing the right thing - for instance walking through the pedestrianised parts of the town centre in the day time, rather than cycling through it.
"But occasionally we have to use the stick, too, and issue fixed penalty notices or direction to leave orders.
"We believe strongly that the best approach is to work collaboratively with the police and other agencies to achieve long-term improvements in community safety."
PC Kevin Marshall, beat manager for Mansfield town centre, said: "Altogether we had more than 20 police officers in and around the town centre – all supported by many other partners from the local community.
"Together we provided a very visible presence in the town centre and the response we received was fantastic.
"Members of the public were really supportive of what we were doing and we made direct contact with a lot of people who hadn't spoken directly to the police for a long time so it was an invaluable opportunity to develop new contacts and generate better local intelligence."
Inspector Nick Butler, district commander for Mansfield, said: "We maintain a regular dialogue with local residents and businesses and work hard to respond to their concerns.
"Over the last few months we've heard more and more form local residents and businesses about the impact of low-level crime and antisocial behaviour in the town centre.
"These types of incidents – shop thefts, aggressive begging and intimidatory behaviour – are unlikely to make the news, but they are a serious cause of concern for people living in working in the town centre. And if the matter to them, they also matter to us.
"Tackling antisocial behaviour is now a key priority for us and we are working every day to address these issues. On this occasion we worked with other local partners to throw some additional resources at the problem and provide extra reassurance to local people."
Results from the day included:
- Eight people ordered to leave the town centre and stay away for a period of 48 hours under a Section 35 Dispersal Order.
- Three people detained for carrying the drug Mamba. They were not arrested but instructed to attend Mansfield police station for processing 48 hours later.
- Two shop thefts prevented and offenders dealt with.
- Two vehicles seized for having no insurance.
- One person moved on from sleeping under a cash machine.
- One Fixed Penalty Notice issued to a cyclist.
- Three people complied with a request to dispose of the alcohol they were drinking in breach of the PSPO.