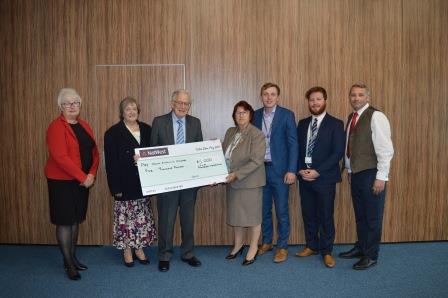 Mansfield and District Crematorium has raised another £20,000 for three local hospice charities from a metal recycling scheme.
In the latest round of donations, Beaumond House Hospice in Newark has received £7,000, the John Eastwood Hospice Trust, based in Sutton-in-Ashfield, has received £5,000 and the Nottinghamshire Hospice, based in Nottingham, has received £8,000.
The money is from metal recovered from cremations where bereaved families have given permission for it to be sent for recycling.
Mansfield Crematorium, which is run jointly by Mansfield District Council, Ashfield District Council and Newark and Sherwood District Council, signed up to be part of the Institute of Cemetery and Crematorium Management's (ICCM) Recycling of Metals Scheme in 2011. Since then it has raised a total of £58,377 for the three local hospice charities.
Crematorium Registrar Mrs Sally Curtis explained: "Cremated remains often contain metals from the coffin and from orthopaedic implants such as hip and knee replacement joints.
"Some of this metal, however, is of a high grade steel which can be recycled and made into new orthopaedic implants
"Prior to this scheme, this metal was removed from the cremated remains and buried in the grounds of the crematorium as, historically, that was the accepted treatment of such metals. Now, with an increasing move towards recycling, a better option emerged.
"We never send any metal from cremated remains for recycling unless we have the written consent of the nearest relatives which is sought prior to a cremation."
Executive Mayor of Mansfield Andy Abrahams added: "The scheme has been well received by bereaved families since 2011. As well as helping local charities, it offers a responsible approach to recycling this metal rather than burying it in the ground."
A specialist company sorts the metals collected and separates the higher grade cobalt steel which can be re-used to make new orthopaedic implants. The remaining low grade metals go for traditional recycling.
The money received nationally in the scheme is divided among the supporting crematoria to be donated to bereavement based charities.
Mansfield Crematorium recently retained its Gold Standard status in a national scheme that assesses services offered to bereaved families.
It scores building facilities, opening times and how caring and responsive the crematorium staff are in their approach to helping the bereaved.
The accreditation has been awarded under the Charter for the Bereaved, a scheme run by the ICCM and the only recognised monitoring of cemeteries and crematoria.
The crematorium was among 74 teams in the country to be awarded gold for its service.