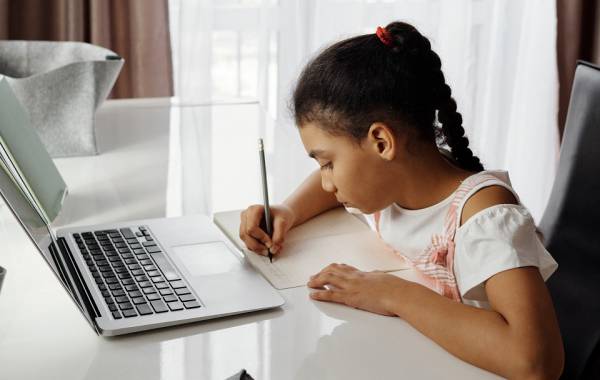 Executive Mayor Andy Abrahams and Mansfield District Council have supported and praised a scheme that is helping provide vital IT equipment to 240 Mansfield and Ashfield families.
The #WeMakeICTPossible campaign was founded and is run by three local business owners and has sought to tackle digital poverty by providing equipment such as laptops, tablets and desk top systems, to schoolchildren and young people in need in the area.
Gary Jordan, Managing Director of GMJ Solutions and Chair of Mansfield and Ashfield 2020, Martin Rigley, Managing Director of Lindhurst Engineering and Chair of Discover Ashfield, and Katie Cooper-Lewis, Director of Grace Consultancy Midlands, have been working together for several years on various community focused projects.
This latest campaign, launched in November 2020, was in response to appeals for help by local schools and residents for families where children were struggling with home schooling and accessing online lessons.
After a couple of months of gathering research into the issue, the campaign discovered that in Mansfield alone around 25% of families had no access to technology, based on survey information from Local Enterprise Partnership organisation, D2N2, and the help charity Citizens Advice.
The campaign founders made their own donations but say the campaign would not have been possible without the contributions of local people and businesses, including £2,000 from Mansfield District Council via its Covid Community Response Network Fund. Mayor Andy also contributed to the campaign by donating £500 from the Mayor's 500 Fund.
By March, 140 families across Mansfield and Ashfield had received equipment from the campaign, with another 100 imminently due for distribution.
Donations are being made directly to schools or to students selected by their school. All donations to the campaign are received in line with Covid-secure guidelines and the equipment is thoroughly cleaned and prepared before going out to schools and families.
Mayor Andy said: "This is such a worthwhile scheme to tackle digital poverty which is a serious issue affecting hundreds of households in this district.
"It's easy to believe that everyone has easy access to the internet but it is simply not the case. For some families all they might have is one basic smart phone between them and this has meant very unequal access to online lessons during the lockdown for many children and young people in Mansfield. The council and myself were only too pleased to support positive local action to ease this problem.
"As well as supporting individual families, this campaign provides a significant boost to the council's broader aim to address the much wider ongoing issue of educational attainment in Mansfield, which we hope will assist in raising the opportunities and life chances of future generations here."
Co-founder of the campaign Gary Jordan said: "We are so extremely honoured and appreciative of the support our campaign has had.
"Thank you is not enough to the local people and businesses that have donated. It has been a very humbling experience for all three of us delivering laptops to schools and children.
"With or without the Covid pandemic, digital poverty is an important issue we need to tackle. Though children and young people are back in school, there are still major catch-up issues, homework requirements and potential home schooling during holidays.
"In giving these children and young people at least a laptop, we are also able to help their wider families with social engagement and in finding work.
"Digital poverty does not only affect children's access to school work, in this digital age, it can have a major impact on their mental health and social skills so this campaign is vitally important to our present and future community."
One pupil from Skegby Junior School, who received a laptop, was overwhelmed to have been chosen and told the campaign: "Thank you #WeMakeICTPossible for my laptop. I am actually excited to do my school work."
Melissa Stevenson, Assistant Head of School at Garibaldi School, said: "I just wanted to say a heartfelt thank you for the laptops you donated.
"I can't tell you what a difference they've made to those individuals – all of whom have been working on just a phone for the entire time since January. To be able to access all aspects of remote lessons on a laptop is invaluable."
To donate equipment, contact the campaign via its social media channels on Facebook: @wemakeictpossible (link opens in new window); and Twitter: @wemakeictposs (link opens in new window).