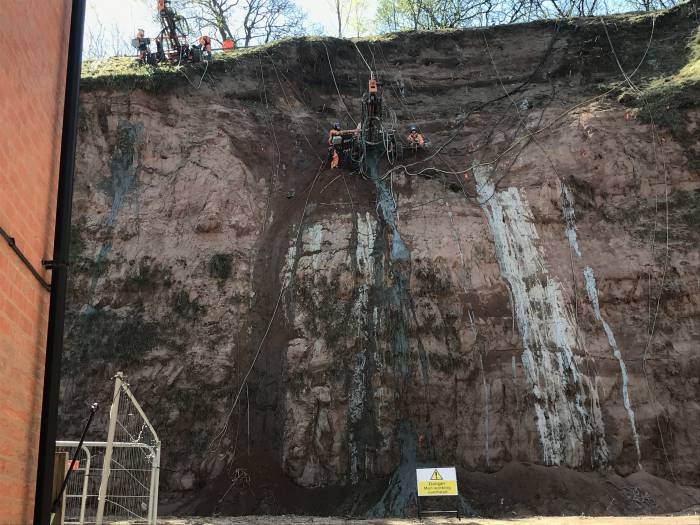 A £3.5m project to protect residents and their homes from future landslips is underway at Mansfield's former Berry Hill Quarry.
Specialist engineers from CAN Geotechnical Ltd are stabilising the cliff face behind Bank End Close and Stone Bank by securing steel netting and erosion matting with around 2,500 soil nails drilled up to 8m deep into the cliff.
A 2.5m protective fence will be installed to provide a buffer zone between the base of the 25m high cliff and residents' gardens.
The first landslip in November 2019 happened after unusually heavy rainfall caused a complex failure of the sandstones that make up the cliff face. The council led a multi-agency response as homes were evacuated – some for two weeks.
This was followed by smaller slips in December 2020 and at the start of 2021. On these occasions the fallen soil was contained within the defined drop zone and behind barriers installed by the council in November 2019.
The council has been working with geotechnical specialists Fairhurst since the 2019 landslip, to carry out detailed surveys and identify the best way to stabilise the cliff's surface. CAN was appointed as the main contractor in 2020 and the council had hoped that work would start last year but this was delayed by lengthy legal discussions with landowners. The complicated access arrangements were recently finalised, which enabled work to start on site in March 2021.
Mike Robinson, Strategic Director at Mansfield District Council, said: "The safety of both residents and their properties have been our primary focus throughout. We've worked hard to support affected residents and keep them informed as we brought this complex stabilisation project to fruition.
"While it has taken longer than we had hoped to get to this point we are glad that work is underway and progressing well.
"Once completed, this should give confidence and reassurance to current and future residents living at the foot of the cliff. We would like to thank everyone involved for their co-operation in making this vital project possible."
The 22-week project should be completed in August after which the residents' gardens and fencing will be reinstated, along with the existing pathways.