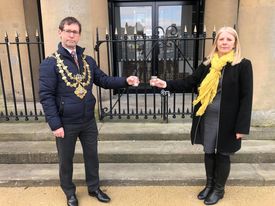 Mayor of Mansfield Andy Abrahams led the district in a minute's silence at noon today (Tuesday 23 March 2021) as part of the National Day of Reflection.
Marking a year to the day since the first national lockdown of the Covid-19 pandemic, the day of reflection aimed to give the nation a chance to remember those lost to the virus.
The flags at the Civic Centre are at half mast today and at dusk, the town's Bentinck Memorial will be lit blue in recognition of the NHS and blue light services.
Executive Mayor Andy and Mariam Amos, Strategic Director of Mansfield District Council, each lit a candle in front of the Old Town Hall before joining the nation in a minute's silence at noon.
Before the silence, Mayor Andy addressed local people live on the council's Facebook page, saying: "This past year has been extraordinary and, no doubt, one that we are likely to remember in some way for the rest of our lives.
"For many families, sadly, the year's emotional landmark, looking back, will be one of loss and today we all share their grief in a day of reflection for those beloved family members, friends, colleagues or neighbours whose lives have been cut short by Covid-19.
"Few would have believed that on 23 March 2020, when the number of deaths linked to Covid stood at just 335, that a year on, we would be mourning the loss of 126,172 people – a figure that is greater than the entire population of this district.
"Thankfully, following weeks of lockdown and with the continuing roll-out of the vaccination programme, the future is now looking more hopeful and I am sure, knowing the resilience of the people of Mansfield, we will get through this as a community to build back better and stronger.
"Let's not risk it though. Keep taking precautions, keep washing your hands, using face coverings and keeping your distance for now. We cannot afford to relax the rules just yet.
"We owe it to the memories of those we have lost to make sure all of us do everything we can to prevent more families losing precious loved ones before their time."
Mariam Amos said: "This is a day of sombre reflection but it is also a day to look forward with hope for better times ahead.
"I am heartened and proud of how the council and the good people of Mansfield have responded with care and at speed to one of the most challenging periods for decades, for both local people and local businesses.
"We must now find the resolve to recover from this pandemic and build on the networks of support and unity that have built up over the past year.
"Working together and with unified purpose and supporting each other is what will help people and businesses back on their feet sooner."