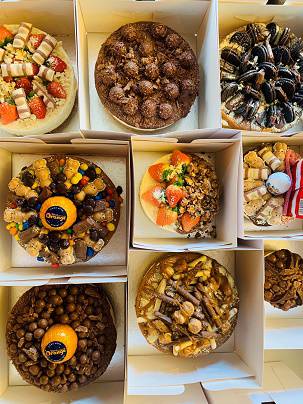 Mansfield has seen a surge of business start-ups during the past year with lockdown restrictions failing to dampen the entrepreneurial spirit in the district.
Since September 2020, Mansfield District Council has had 64 business support enquiries with half of them from start-up businesses.
And figures from the council's business data intelligence service FAME show that in Mansfield, business start-ups increased from 468 between April and December 2019 to 578 between April and December last year.
The council has supported businesses throughout the pandemic, distributing a total of £30m in government support grants and £41,500 in council business support grants. The next round of grants for new businesses will start on 1 April.
These grants have allowed many business to open up or stay afloat during this challenging year. Meanwhile other businesses have adapted to operate successfully in a Covid-secure way.
Among the pandemic success stories in Mansfield are Frenchie Frenchie, Alrate Cheesecakes and KC-CP Ltd. (see case studies below)
Cllr Stuart Richardson, Portfolio Holder for Regeneration and Growth, said: "This past year has undoubtedly been really tough for some businesses.
"But for others it has also proved to be a unique moment of entrepreneurial opportunity and given them time to launch or to rethink, rebrand or expand into different markets.
"It is very encouraging that despite all the hardships, the spirit to move forward and continue to trade in some form has continued and these businesses should be applauded.
"The council's business grants scheme makes a significant difference to new and small ventures and I would encourage other firms to check out how we could help make them a bigger success or give that all-important lift-off booster.
"With the end of the lockdown coming in the weeks and months ahead, there is now a sense of excitement and expectation in the air and the council will be doing everything it can to help rebuild our local economy."
The support measures that the council will be doing are:
- Providing Covid Marshalls and Ambassadors to offer advice to businesses and the public how to operate safely.
- Information leaflets to businesses to enable them to re-open safely.
- Peer to peer sessions supported by Mansfield and Ashfield 2020 to enable businesses to learn from each other.
- Updated information signs.
- Support from Environmental Health, Licencing and Town Centre operations to businesses on the ground.
- Business survey to be carried out to ascertain what help businesses need.
There are also council grants of up to £2,500 available for expanding businesses or for independent retailers who want to take a vacant shop or improve their shop front.
To find out more about how the council can help your business or help make your business ideas a reality find out more on the council website (link opens in new window) or email the Regen team at the council (link to email app opens in new window) or call 01623 463499.
The website also has information about how businesses can prepare for Brexit, details of the Discretionary Rate Relief Scheme, networking opportunities, accessing free business advice, investment funding and training.
The council's business support service works closely with Mansfield and Ashfield 2020, D2N2 Growth hub, NBV Enterprise Solutions, East Midlands Chamber of Commerce and the Federation of Small Businesses.
Services offered by the council to businesses includes help with finding the right premises and relocation support and it can also advise on Covid-secure reopening.
In addition, it can advise an employer on how to develop, train and re-skill their workforce to encourage staff retention and attract talent, including employing young people.
Officers can also give tips on business planning, supply Brexit support, and information about Covid-19 Government grants and wider finance and grant opportunities.
Case studies
Frenchie Frenchie (link to company website opens in new window)
For Frenchie Frenchie, things had been going so well. After opening its unique "wacky warehouse for dogs" in November 2019, by January 2020 the concept was becoming so popular, it was often booked out at weekends.
Doggos galore – from all over the country – were meeting up for a trip out to the café's ball pits and off lead play areas and enjoying the café's popular range of tasty home baked pet treats from the 'barkery'. The pet birthday 'pawties' were beginning to take off. There was also the sale of coffees and cakes for their owners, too.
And then in March everything had to close with the first National Lockdown as coronavirus cases surged.
For Arran Giles, who launched the business from a background in telecoms, it could have spelled disaster for a business concept that was just beginning to wag its tail. It was no time to play dead so he called the company's approach to heel and threw the ball in a new direction.
He said: "We thought 'how can we bring a bit of revenue in and at the same time still let people know we are here' so we launched an online bakery for dogs.
"Orders came in nationwide and it has kept us really busy in the kitchen. We have opened up a completely new market. The level of interest came as a massive surprise."
They even started exporting orders to Europe though this has been temporarily paused since Brexit because of the extra paperwork now needed. The company is hoping to find a way to re-introduce exports.
The move online meant having to "work day and night" to get the website launched, said Arran, bringing forward aspects of Frenchie Frenchie's five-year business plan.
It has also had to scale up production and upgrade and expand the kitchen to keep up the online demand for Doggy 'Woofnuts' (doggy flavoured doughnuts) and other such pooch-orientated treats, some of them vegetarian and vegan. All are home-made from scratch to secret recipes developed with healthy dog nutrition front and centre.
The website and kitchen have just had another upgrade to be able to offer a new line of treats - Doggy 'Woofles' (waffles). Other lines are in the development stage.
And now, following the government recent announcements on coming out of the lockdown, the company is aiming to reopen the café on 23 May with a big launch 'pawtie' and dog festival in the car park of its premises in Toothill Lane.
It is also opening a new kiosk selling the pet treats at Nottingham's Victoria Centre in April.
The long term plan is to open two or three more cafes themselves and then offer the business as a franchise opportunity around the country.
With the huge explosion in dog ownership that has happened during the pandemic, Frenchie Frenchie's ears are pricked, ready to make the most of this expanded market.
KC-CP Ltd (link to company website opens in new window)
This new floor supplier to the care sector was set up by Philip Chambers in May last year after he was initially furloughed and then laid off as a national sales manager for a large company selling construction products.
The 51-year-old former miner went into sales after deciding to leave the coalface after being involved in a harrowing rescue operation following the Bilsthorpe Colliery tragedy in 1993 in which three of his colleagues died.
Proud of his strong mining work ethic, he was keen to pick himself back up after being made redundant in May. But his applications to hundreds of jobs led nowhere and so he decided to start his own business.
"I had to think of my family. I had to do something and I had nothing to lose," he said.
His job loss, though, has been Mansfield's gain because since starting his specialist flooring business, he has taken on four employees and an apprentice and is hoping to expand his workforce further once the pandemic lockdown restrictions are eased.
The company, which sells specialist anti-bacterial flooring to care homes and hospitals, is soon open a showroom near Mansfield and hoping to expand further.
The firm wholesales imported products from the USA and Vietnam and mainly sells business to business, exporting to Europe and the Middle East.
With the help of a £1,000 start-up grant from the council, Philip has been able to buy specialist computer equipment which has allowed him to produce a high quality online product brochure.
He said: "Without this grant, I could not have produced such a high quality brochure and without that we would not have landed the orders so I am really grateful for this extra help."
Alrate Cheesecakes (link to company Facebook page opens in new window)
Son of a chef, Paul Haywood had always been around professional kitchens and had innate passion and talent for catering.
He set up Alrate Cheesecakes in Mansfield Woodhouse in 2017 after a moment of inspiration while travelling abroad.
In just a year, the company went from strength to strength, especially after Paul reached the semi-finals of the ITV daytime telly cooking competition, Culinary Genius, during which he was mentored by top celebrity chef Gordon Ramsay.
TV exposure quickly helped Alrate Cheesecakes (a play on the local way of saying All Right) build up a following of more than 25,000 social media followers and in 2019 its decadent delicacies were selling like hot cakes – only these were cold ones – at the rate of 2,000 portions of cake a month.
When the first lockdown came into force in March 2020, Paul quickly discovered he did not qualify for any of the government's business support payments.
He said: "I had to find a way of keeping the business going so there was still a business to come back to once the restrictions were lifted, and so I could pay all my work and home bills as they didn't stop."
He went from a team of eight to just himself and knuckled down for 60 to 70 hours a week to run the show single-handed, selling up to 30 whole £30 cheesecakes a day plus up to 200 £5 cheesecake 'slabs'.
From people coming into the premises to buy cheesecake, he switched to an order service from the company's Facebook page or by phone, with contactless drive-through collection from the car park of the premises he was using between 3pm and 6pm.
His customers were clearly in need of a lockdown treat boost and soon Paul was selling hundreds of orders of cake a day.
"I was literally having queues of 40 or 50 cars of people at 3pm picking up their cheesecakes and that was happening, every day I was open," he said.
Paul initially ran collections three days a week, Monday, Wednesday and Friday, but could not keep up with demand.
He said: "I was turning away hundreds of people a day so then I opened what I called 'Takeaway Slab Thursday' and on Thursday mornings I would make 200 slabs and from midday when orders opened, I had sold out within an hour. No word of a lie!"
His turnover was at or above pre-lockdown times – but with fewer overheads. The overheads reduced even further when he had to vacate the kitchen he had been renting and run the business from home. After registering the business with the council's Environmental Health team, his neighbours soon become loyal new customers.
Coupled with not having any holidays or other distractions to spend his earnings on – he has had just five days off since April 2020 and two of those were Christmas Day and Boxing Day – Paul banked all his profits.
These savings enabled him to fund, without needing to borrow any money, his next business development plans: his own premises, something that had always been on the horizon.
Paul has now opened the outlet in Mansfield Woodhouse High Street: Haywood's, The Home Of Alrate Cheesecakes And Deli. It is currently operating as a takeaway seven days a week for pre-order and collection.
In May, it will be opening with a full eat-in menu serving lots more "naughty food", details of which are under wraps for now.
Paul will be joined by a new full time chef from next month and four more front of house staff in time for the grand opening after 17 May when hospitality will be able to welcome customers eating indoors.
He added: "The last year has been really hard work but it has given me the opportunity to take my business to the next stage and I might not have been able to do that as easily if I had not been operating as I have during these past months."