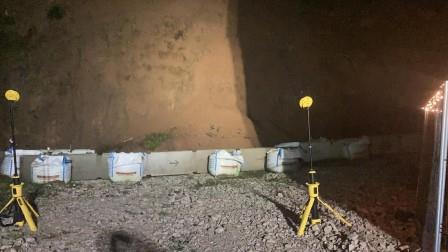 Work is set to begin next month (March 2021) on stabilising the cliff face at the former Berry Hill Quarry where several land slips have occurred since November 2019.
Mansfield District Council met online with residents on 18 February 2021 along with geo-technical consultants from Fairhurst, the company appointed by the council to lead the stabilisation project.

Michael Robinson, Strategic Director at the council and James Biddlestone, the council's Head of People and Transformation, answered questions from residents while Paul McMillan, of Fairhurst, provided an overview of how the quarry face continues to be monitored and explained how the risks were assessed.

Ben Foulger, of CAN Ltd, gave an overview of the how the project will be delivered and what kind of building work disruption residents could expect. All the works will be carried out with residents in mind with limits on hours of work and working at weekends.
Since the initial landslip in 2019, the council has worked with Fairhurst to develop a £3m stabilisation plan comprising of mesh and pegs and a catch-wall.
The project is expected to take 21 weeks to complete and will be in two phases: phase one will involve securing the cliff face with mesh and 8m pegs and phase two will involving building a 2.5m protective fence to separate residents' gardens from the cliff face with a buffer zone.

The council had hoped to start the work last year but it was delayed by lengthy legal discussions with landowners.
A smaller landslip occurred in December 2020, which resulted in four homes being evacuated for a day. Last month's rain also triggered another two further small slips during which several homes had to be evacuated for a few hours.

In each case the fallen soil was contained within the defined drop zone and behind the barriers installed by the council in November 2019.

Mike Robinson said: "The safety of residents remains our primary concern and these new slips escalated the need to progress the stabilisation scheme as soon as possible. We would like to thank everyone involved for their co-operation in now making it possible to take this project forward."
Residents are being advised to remain vigilant and call 01623 463463 (during office hours) or 463050 (out of hours) if they have any concerns.