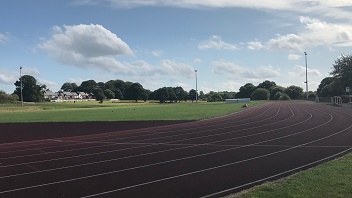 The Mansfield Harriers Athletics Club will soon be getting into their stride in the evenings thanks to new state-of-the-art flood lights at its track in Berry Hill Park.
The £47,000 lighting scheme is to be funded by England Athletics, the Harriers and by £15,000 each from Mansfield District Council and the Radford Foundation, a charity set up by Mansfield Town Football Club owners John and Carolyn Radford, and dedicated to giving a helping hand to the local community.

Cllr Andy Burgin, Portfolio Holder for Environment and Leisure, said: "The new lights will be a big improvement for the track now leased to the Harriers and just one of various improvements the council is putting in place since taking over the management of Berry Hill Park as trustees.

"As well as being a boost for the activities of the Harriers, their lit training sessions will also make the park more accessible to the wider public in the evenings."
Pat Carlan, chairman of the 100-year-old athletics club, said: "We can't use our Berry Hill Park facilities at night without better lighting so this refurbishment of the floodlights will make a huge difference and allow our athletes valuable extra training time.
"We are very grateful to the council, the Radford Foundation and England Athletics in making this new lighting possible."
The design and manufacturing of lighting is under way but a start date for their installation has yet to be confirmed.