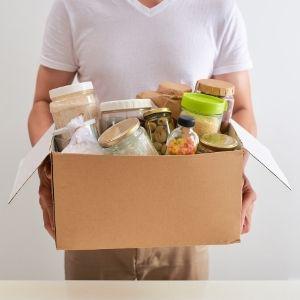 Executive Mayor of Mansfield Andy Abrahams has spoken of how impressed and proud he is of the authority's response to helping vulnerable residents and people in need during the COVID-19 pandemic.
Mayor Andy felt moved to speak out after the positive response to a recent video appeal to staff on the council intranet by council CEO Hayley Barsby for donations of food and clothing to help local families who are struggling financially.
"Helping vulnerable people has been a major part of the council's work over the past year and the way our officers have regularly gone above and beyond their duties has been amazing," said the Mayor.
"Last month, we put out an appeal to council staff for items like tins of ham and corn beef, toiletries, clothes for children and young adults, and for children's books, to help the growing number of people in this district facing hardship as a result of the COVID-19 pandemic.
"Within days, we had dozens of donations from officers and their friends and neighbours plus offers to volunteer. It makes me proud that we have on the council payroll so many people who genuinely care and want to help.
"Only a couple of weeks ago, we had a gentleman approach the council who was obviously in need of support and in clear distress, with hardly any money left and virtually no food.
"Council officers really persevered and made the effort to reach out to him and show him that we were there to help. We managed to get a supermarket voucher to him to help him buy some food while pointing him in the direction of various avenues of support.
"This was just one incident but there are dozens of similar cases where a timely and sympathetic response by our council officers has made a real difference.

"Mostly it goes unnoticed and the council doesn't usually shine the spotlight on the efforts of its own officers because many would feel that it was just part of their job.

"But I feel they deserve some public credit and recognition for their dedicated and caring work over the past very challenging months during which the scale of hardship has increased considerably."
Among the council staff who reached out to help was Business Transformation Officer Julie Bodin who not only donated books and children's clothes herself, she also collected donations from her friends and neighbours.

She said: "When Hayley did her vlog about the need for more donations of food, children's clothes and books, it really hit home.

"I knew my family was very fortunate - my husband and I were still working, my children were home and safe, and not once have we had to worry about where our food was coming from, or if we could buy clothes for our ever growing children.
"We immediately went through my children's books and clothes to see what we no longer needed and I live in a great community so I put a message into our group chat asking if anyone would like to donate any food or clothing.

"The response was absolutely brilliant. I ended up taking a car full of donations to the Civic Centre which was wonderful."
As part of the council's humanitarian response to the pandemic since April 2020 it has:
Completed 27,000 safe and well checks by phone across the district, assisting with issues such as emergencies, practical advice, emotional support and shopping for people who are shielding or self-isolating and 60 call in person to vulnerable residents.
Taken 66,824 calls in its Emergency Control Room 2,841 of which required emergency service assistance
Delivered 130 food parcels to vulnerable residents.
Issued 52 food bank vouchers
Called more than 600 vulnerable tenants, both council tenants and private tenants, to identify potential support needs.
Services to help vulnerable people delivered by the Housing department since April 2020 have included:
1,500 enquiries dealt with from people at risk of homelessness
670 cases of people facing potential homelessness actively managed, preventing 616 from actual homelessness.
345 Lifelines systems and key safes fitted at the homes of vulnerable residents.
400 smoke alarms and/or carbon monoxide detectors fitted across the district
600 vulnerable clients helped through the Handyperson service to support independent living
190 patients returning home from King's Mill Hospital were supported by medication deliveries
479 actions to enable the earlier discharge of patients from King's Mill Hospital
300 safety hazards removed from privately rented properties and improved the thermal efficiency of over 100 privately owned and rented properties.
Extra help and support has been offered to rough sleepers which has seen all but one placed into supported housing or their own tenancies.
The council has established three FOOD (Food On Our Doorstep) Clubs on the Bellamy Road estate, Oak Tree Lane estate and in the Portland ward area near the town centre, now helping a total of more than 200 members.
More FOOD Clubs are expected to open in other parts of the district this year. They are run by the charity Family Action, working in partnership with the council.
The purpose of the Clubs is to reduce food waste by distributing food donated by wholesalers that would otherwise be sent to landfill as well as supporting the local community.
They are open to anyone, not just people on low incomes. The only eligibility is that members should live or work within 15 minutes of the club.
It costs £1 to register for the year with the club and this entitles members to a weekly bag of food worth about £15 for just £3.50. The bags contain items such as fresh fruit, vegetables and meat, pasta, jarred goods, tinned goods, bread, and cereals.
The council has also supported other schemes to tackle food insecurity in the district, including the Food Share scheme run by the Bellamy Tenants and Residents Association which has distributed about 4,800 shopping bags of food since it started in May.
In December a Covid Winter Grant from Nottinghamshire County Council enabled Mansfield District Council to start a new food and fuel scheme to support vulnerable residents in Mansfield.

It has since distributed more than £30,000 of supermarket vouchers to local organisations to help vulnerable adults and couples suffering hardship as a result of the pandemic.

It will also shortly be starting Hygiene Banks throughout the district to enable that households which are struggling financially have access to basic toiletries.
The council's Christmas Appeals were also a massive success. They saw:
200 Christmas hampers distributed to local households in need, thanks to donations to the council's Sponsor a Bauble campaign.
650 gifts for both children and adults bought from local businesses, with the £1,800 raised in donations to the council's Secret Santa Appeal. They, along with another 150 gifts donated by businesses, MDC staff and members of the public, were shared among the three FOOD Clubs, Mansfield Children's Centre and to residents and families in the council's temporary accommodation
60 donated board games and 60 donated selection Boxes shared out to families via the council three FOOD Clubs.