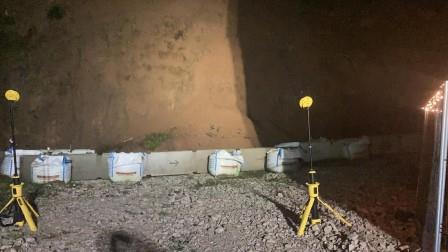 Updated at 3.30pm 24 December 2020
We are pleased to confirm that the debris has been cleared at the rear of the properties in Bank End close.
Our Geotechnical consultants have approved that residents are able to return to their homes with immediate effect. We have been advised that there may be a small level of spoiling that may continue to fall in the area. There is confidence that this small amount of earth would fall in the existing buffer zone. Some plant may remain on site and a further inspection will be done in the coming days. Residents are advised to remain vigilant and if they have any concerns please call 01623 463050 immediately.
Original update:
Mansfield District Council is working as part of a multi-agency response with the Police and Fire and Rescue at a landslip in Bank End Close at the former Berry Hill Quarry Mansfield.
Soil slipped at the rear of two properties which so far has been contained within the defined drop zone and behind the barriers that were installed by the council in November 2019.
Fairhurst, the council's specialist geotechnical consultants provided advice to the Police and four properties have been evacuated. Residents found their own alternative accommodation or were housed temporarily by the council. A full assessment of the cliff face will be made this afternoon and further advice will be given to residents.
Mike Robinson, Strategic Director at Mansfield District Council, said:
"The safety of residents is our primary concern, we are using our established contingency and emergency plans to respond to the situation. A small number of residents have been advised to evacuate their homes and relocate temporarily. Local residents are asked remain vigilant and call 01623 463050 if they have any concerns."
Since the initial landslip in November 2019, Mansfield District Council has worked with Fairhurst to develop a stabilisation plan comprising of mesh and pegs and a catch-wall costing around £3m. The council is keen to progress the project and an approved contractor has been appointed, however, despite lengthy discussions not all landowners have agreed to the council accessing the rear of properties to undertake the work which has delayed the commencement of works. The situation will be reviewed following the recent slip.
A project team has been mobilised to respond to the emergency situation at Berry Hill Quarry and we are in direct contact with affected residents as well as those in neighbouring properties.