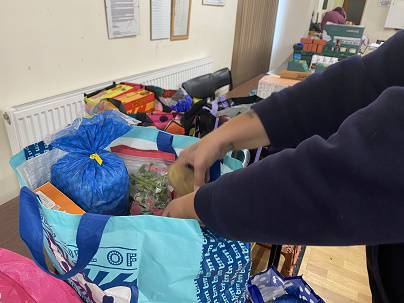 Mansfield District Council is launching a third FOOD Club in in the town.
The council has been working with two leading national charities, Family Action and FoodShare, to open the first FOOD (Food On Our Doorstep) clubs in August in two known priority neighbourhoods: Bellamy Road and Oaktree Lane.

The first two FOOD Clubs now have 103 members and, on average, support around 50 members each week to access affordable food that would otherwise be destined for landfill.

A third FOOD Club is being launched this month at Dallas Street Resource Centre in the Portland area of the district, close to the town centre.

Family Action developed the FOOD Club model originally in Manchester and FOOD Clubs are now operating in many parts of the country.

The council acted to tackle food insecurity in the district after reports showing the number of families finding it hard to put food on the table had increased four-fold during the COVID-19 pandemic.

The Trussell Trust, which is responsible for nearly half the food banks in Nottinghamshire, has reported an 81% increase in people needing support from food banks at the end of March compared with the same time last year and demand for food parcels from families with children has increased by 121%.

Last month Mansfield District Council was awarded £70,000 from the Nottinghamshire County Council Emergency Fund and it has been working with a range of stakeholders involved in the Mansfield Health Partnership to explore other ways to make a difference to residents facing food insecurity.

The council is asking residents to let them know how food insecurity has affected them by completing an online survey (link to the online survey on the council's website opens in a new window).

The questionnaire, which can be filled in anonymously, asks for a person's postcode, age and family status so that officers can build a bigger picture of the difficulties experienced at a local level.

Understanding the picture in individual neighbourhoods will help the council when applying for future funds or identifying suitable projects through the Feeding Mansfield Network.

Cllr Amanda Fisher, Portfolio Holder for Communities and Wellbeing, said: "These clubs have been a huge success so far in helping dozens of local people.

"Supporting vulnerable people has been a central part of the council's response to coronavirus and it is very good news indeed that this work can continue and expand in the future thanks to this emergency funding.

"Sadly, there is clearly increasingly a demand for more action as the financial impacts of COVID start to really bite, especially as families are now facing added heating costs during autumn and winter.

"If people are choosing between heating or eating, that is a situation we want to know about through our survey because we may be able to help. No one should be going cold or going hungry."

All these projects align to a raft of other council projects, including community allotments and orchards, which support its Wellbeing priorities.