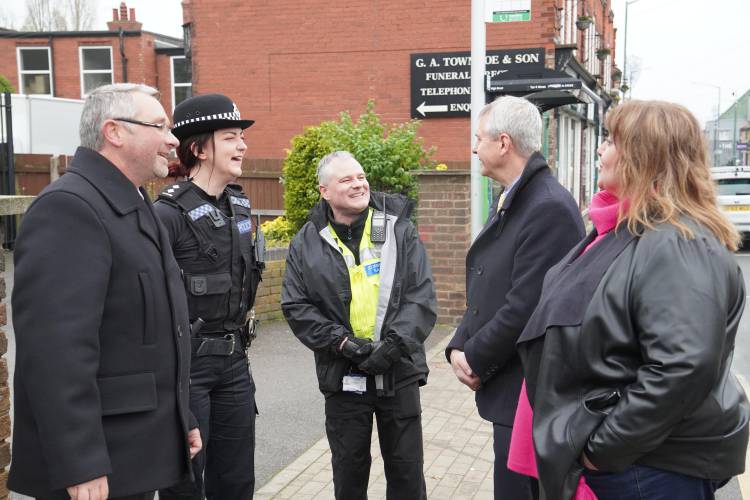 Antisocial behaviour has been slashed by nearly a half after a £375,000 programme of investment in public space security in Warsop.
Vehicle crime has also dropped by a third, while violence against women and girls has also seen a reduction following the Safer Streets project.
Interventions in the town include new CCTV Refuge Points and automatic number plate recognition cameras, new street lighting, a network of Safe Space shops and community clean-up days.
The activity was targeted in Warsop and – combined with the continuing hard work by officers from Nottinghamshire Police and Mansfield District Council - saw a reduction of 46% in antisocial behaviour and a 33% drop in vehicle crime in the 12 months from October 2022 when the project started, compared to the previous three-year average.
Levels of violence against women and girls remained low, with just six incidents all year – down from an average of eight.
House burglary also stayed low, with 13 incidents in the area throughout the year.
Warsop's Safer Streets project was delivered by the Office of the Police and Crime Commissioner for Nottinghamshire, in partnership with Nottinghamshire Police and Mansfield District Council, with funding from the Home Office.
Nottinghamshire Police and Crime Commissioner Caroline Henry said: "I've often visited Warsop and know that people here often feel forgotten when it comes to funding, that's why I was so keen to ensure that Warsop got it's fair of Safer Streets funding.
"The reduction in antisocial behaviour in Warsop town centre is incredible and is really helping to improve people's quality of life.
"It has brought offences down from an average of 216 a year for the previous three years, to just 117 in the year that Safer Streets has been operating. The reductions in vehicle crime and violence against women and girls are also really pleasing to see.
"The partnership with Nottinghamshire Police and Mansfield District Council to deliver this project has been outstanding and while the project is now completed, the legacy of this work will continue to have benefits for these communities with the additional infrastructure we have put in place.
"I now look forward to seeing the difference we can make together with the next round of funding that we have secured from the Safer Streets programme."
High Street in Warsop was one of the streets where antisocial behaviour fell sharply – from an average of 19 incidents a year to just nine during the Safer Streets period. Other streets where antisocial behaviour fell included Church Street, Watson Street, Pavilion Close, Wood Lane, Carter Lane and Laurel Avenue.
Inspector Kylie Davies, Mansfield Neighbourhood Policing Inspector for Nottinghamshire Police, said: "Everyone has a role to play in effective neighbourhood policing – from the officers on the ground, the police and crime commissioner and the local council.
"The Safer Streets initiative is a great example of what we can achieve when we work together to identify the issues that matter to our communities and identify solutions.
"The results speak for themselves and I have every confidence these positive trends will continue in the months ahead.
"Residents too have a vital part to play by telling us what is happening in their communities and sharing any concerns they have with us."
The key interventions that have been funded as part of Safer Streets include the installation of CCTV Refuge Points in High Street and Church Road, near The Carrs nature reserve. These are 360-degree, high-definition cameras mounted on a column with a touch button intercom that allows anyone in distress to talk directly to the CCTV control room and ask for help.
A number of other CCTV cameras have also been installed or upgraded at various locations.
A network of shops in Warsop have also become accredited Safe Spaces, where members of the public can find a safe haven, with the businesses fitted with CCTV cameras and signs and shop workers given training on how to help safeguard vulnerable people. Businesses taking part in the scheme include Jins Chinese, the Plough Inn, Greetings Warsop, Cedars Vets and the Warsop Library.
New streetlights have also been installed in Sherwood Street and Clumber Street and within The Carrs, to make people feel safer at night.
A total of 200 women were also offered free subscriptions to the Hollie Guard personal safety mobile phone app.
Mansfield District Council's Joint Portfolio Holder for Safer Communities, Health and Wellbeing, Councillor Angie Jackson, said: "It is encouraging to see some significant results in Warsop since the inception of the Safer Streets project which was designed to help improve our resident's quality of life and increase their safety.
"The targeted activity has led to a decrease across all antisocial behaviour, and a decrease in vehicle crime and violence against women and girls.
"This has been another great example of partnership working, which has led to the success of this project, and I am pleased there will be a legacy of infrastructure with the installation of Safe Space shops and CCTV Refuge Points, which will keep residents feeling safe for years to come."
Warsop was one of a number of areas to benefit from Safer Streets investment after the Office of the Police and Crime Commissioner secured a total of £3 million from the Home Office for projects across Nottinghamshire, which were delivered with police and local authority partners.
Published on behalf of Office of the Nottinghamshire Police and Crime Commissioner.