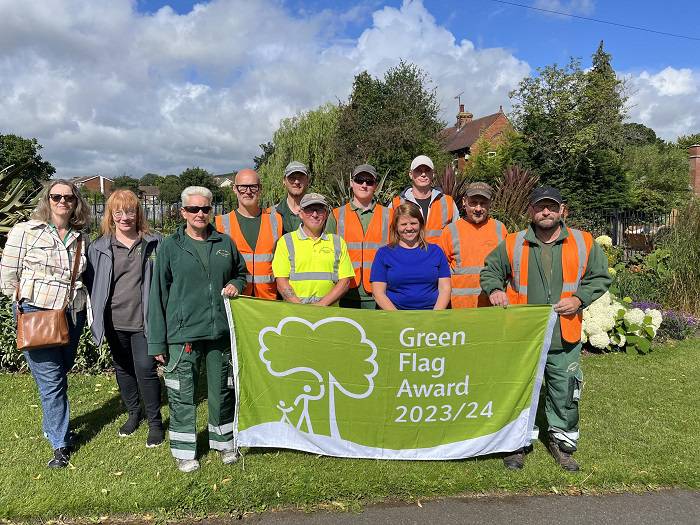 Prestigious Green Flags have been awarded to seven of Mansfield parks and nature reserves - for the eighth year in a row.
Prestigious Green Flags have been awarded to seven of Mansfield parks and nature reserves - for the eighth year in a row.
The green spaces which have achieved the standard in the district are: Carr Bank Park, Titchfield Park and King George V Park, all in Mansfield, plus Peafield Park and Yeoman Hill Park, in Mansfield Woodhouse, and two Local Nature Reserves at Quarry Lane, Mansfield, and The Carrs, in Warsop.
The success will be marked tonight (18 July) by the lighting up of the Bentinck Memorial in the Market Place in green.
Mansfield's seven join a record number of parks and open spaces nationwide - 2,216 - to be awarded the internationally recognised quality mark for parks and green spaces this year.
Cllr Andy Burgin, Portfolio Holder for Leisure and Environment, said: "What another fantastic achievement for Mansfield and I would like to give a huge shout-out to our wonderful Friends groups. These volunteers are out in our parks and nature reserves all year round, and in all weathers.
"Without their support of the council's fantastic Parks team it would be impossible to reach the high standards required to earn a Green Flag.
"It would be great to see more Friends groups set up for other parks in the district and this would enable a community to access funding streams and various grants that are not available to the council itself.
"And being a Friend is a very rewarding and satisfying way to make a contribution to a community."
To achieve Green Flag status, the council had to meet certain criteria requirements including ensuring the outdoor spaces are healthy, safe and secure, well-maintained and clean as well as conserving natural landscapes and managing biodiversity.
The council is committed to maintaining and improving the standards of its green spaces as part of its wider Place and Wellbeing strategies to attract more visitors to the district and improve the health and wellbeing of residents.
Among the sports and activities which can be enjoyed all year round in the council's 134 parks, recreation grounds, open spaces and nature reserves, are: tennis, football, golf, outdoor gym equipment, cycling and children's play equipment.
Commenting on the announcement of this year's winners, Keep Britain Tidy Chief Executive Allison Ogden-Newton OBE added: "Our parks continue to provide a vital sanctuary for communities to play, grow and bond.
"The news that a record number of parks in the UK have achieved the Green Flag Award standard reflects the tireless work of those tasked with looking after these national assets.
"At Keep Britain Tidy, we're very proud of the Green Flag Award - a crucial component in ensuring the continuing quality of our parks and green spaces, making sure they are managed to the highest standards and are safe and accessible. We believe it should be a minimum standard for every park – and that everyone, wherever they live, should have access to high-quality green space.
"Parks play a key role in the health and wellbeing of the nation not only in the physical and mental health of us all, but also in the environmental health of the planet.
"Congratulations to all this year's winners."
Anyone who would like to get involved as a volunteer at any of Mansfield's parks and green spaces can contact the Parks team by emailing mdc@mansfield.gov.uk.