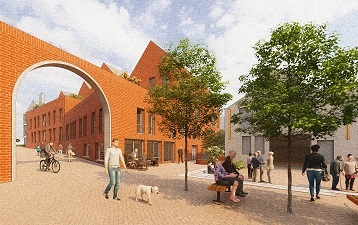 The winner of an international competition to appoint an architect for a flagship housing scheme on a derelict site close to Mansfield town centre has been revealed.
The Royal Institute of British Architects (RIBA) in January launched a competition to find an outstanding design for Mansfield's White Hart Street area on behalf of Mansfield District Council.

There were 36 entries and the competition drew huge interest in Mansfield both nationally and internationally.
Proctor and Matthews Architects have now been announced as winners selected from five finalists after their mixed housing scheme impressed a judging panel comprising council officers, Mansfield Executive Mayor Andy Abrahams and a RIBA advisor.

A delegated decision by the Cllr Anne Callaghan, Portfolio Holder for Housing, for the council to formally offer the £583,796 contract to Proctor and Matthews, a prominent London-based design house, is set to take place on 12 July.

Entrants to the competition worked to a £14m design budget and their brief included providing a high quality mix of around 60 affordable homes which respected the historic nature of the area and considered the challenges of climate change. The finalists were judged 80% on quality and 20% on price.
Most of the quality criteria looked at architectural distinction and appropriateness of the design concept and how it met the requirements of the brief.

A proportion of the scores were awarded on the architects' ability to work in partnership with the council and other stakeholders and the social value their scheme would deliver to the local economy.

In their submission, the company said it could facilitate work experience and work shadowing placements for students, as well as talks and lectures to students and local interest groups. It also suggested workshops to teach young designers about the role of the architect.
The company also pledged to use local companies and suppliers in the construction stages of the project and ensure permanent job opportunities were made available to local people not in education, employment or training.
Executive Mayor of Mansfield Andy Abrahams said: "The overall standard of entries to the competition was phenomenally high and this scheme from Proctor and Matthews stood out as particularly impressive in its quality, cost and in terms of what we as a council were looking to achieve.
"'The idea to work with RIBA has been a tremendous success resulting in Mansfield being exposed to some of the most talented architects in the UK resulting in the highest quality design for this transformative project.

"We can't wait to take the next steps into making the impressions of this new housing into a reality for our tenants. We've had a glimpse of what the scheme will look like from initial artist impressions but there is still much work to do and a more detailed picture will emerge in the coming months.
"White Hart Street has been derelict for too long and has failed to attract private sector investment, so it has been crying out for a vision that will breathe new life into this important area of our town centre.
"We think we have found in this winning scheme a design that will respect the area's heritage and provide affordable, energy efficient and future proofed homes that are fit for the 21st Century, and which people of all ages will feel proud to live in.
"This scheme is a significant part of our Town Centre Masterplan. Put simply, we want to see our town centre increasingly as a place where people want to live. This will increase footfall and consequently act as a catalyst for external investment."

Teresa Borsuk, RIBA Architect Adviser, said: "The panel was impressed by the quality, thought and attention to detail expressed in all the submissions. The many ideas presented provoked much discussion and debate, but evidently there can only be one winner.
"The winning entry was well considered, achieving a good number and mix of homes; a range of other uses; quality public realm and above all, vitality and spirit.

"The panel particularly enjoyed the careful crafting of the proposed masterplan with its interweaving and layering of the many references to the site's former history.
"Mansfield Council is now looking forward to further develop the proposals to ultimately transform White Hart Street regeneration area into a memorable place, with an identity that will help secure and retain its future."
Once the contract has been awarded, the architects will be working on a detailed design for submission for planning approval subject to the council's approval of a business case for the scheme.
The Full Council is expected to consider the business case for the plan in early 2024. If approved, a planning application will be submitted and if that is approved, demolition work could start around October 2024 and building work in February 2025.
The brownfield land to be redeveloped is located within the Bridge Street Conservation Area which contains buildings of historic and architectural merit, but it has stood derelict for over a decade. The proposed development aims to retain and improve the existing heritage properties.
The area previously had planning permission for a mixed retail and residential scheme in 2008, but market conditions meant this scheme was never taken forward. It subsequently became blighted and has, as a consequence, become a magnet for anti-social behaviour.
The Full Council approved a £16.5m budget in 2019 to build new council homes on the site and the council purchased land in this area last year (2022) in order to facilitate its regeneration. It will be exploring opportunities to work with other partners to increase this budget through grant funding.
The properties are expected to be a mix of housing types, including family houses and apartments for older people, and built to the energy efficient Future Homes Standard, in line with the council's Climate Emergency Action Plan. They would be added to the council's stock of affordable homes for rent.
The scheme aligns with three of the council's corporate priorities: Place through regenerating a blighted area of the district; Wellbeing by providing new, high quality housing which improves the quality of life of residents; and Growth, by developing a better and wider mix of housing across the district.