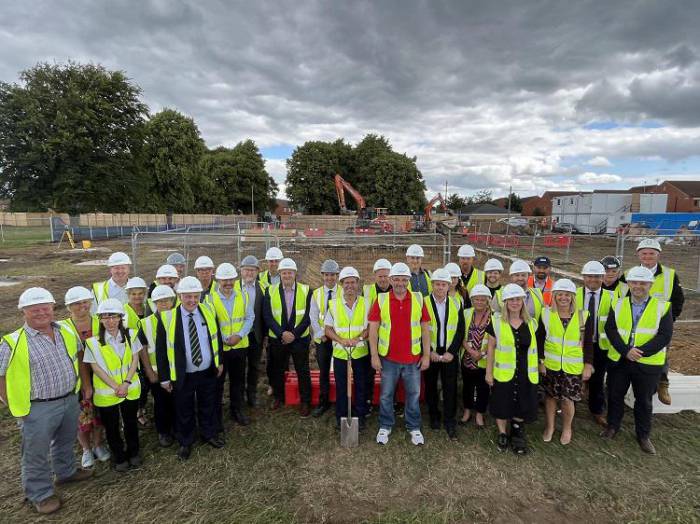 Construction has started on the new health hub at Carr Lane Park in Warsop that will significantly expand the parish's leisure, wellbeing and community provisions.
Due to open in June 2024, the new hub will see the installation of a new 15 x 8-metre swimming pool, a splash play area, changing village, a gym, a multi-purpose hall, a café viewing and IT area and community space. A stone's throw away from the main site will also see the creation of a new and improved multi-use games area due to open in early 2024.
Planning permission for the hub was approved in March 2023, and representatives from Mansfield District Council, the Department of Levelling Up, Housing and Communities (DLUHC), Sport England, Serco/More Leisure and building contractors Pellikaan toured the construction site today (29 June) as work gets underway.
The delivery of the council's £9.2m hub was made possible thanks to key funding agreements secured by the authority from various partners and agencies, including a £1.8m capital grant from Sport England, a £3m allocation from the Government's Towns Fund and £103,967 from the DLUHC to create a dedicated changing place within the building.
The hub is just one of six projects funded from the £12.3m awarded to Mansfield District Council in 2021 from the Towns Fund allocation.
The remaining funding is coming from the authority directly, with £1.5m from reserves and £3.5m from council borrowing.
Councillor Andy Burgin, Portfolio Holder for Environment and Leisure, said seeing diggers on the site was exciting and overwhelming.
"It has been a long time in the making, but I am elated to be here on site today and see for myself the works getting well underway to make way for the new community hub," he said.
"This project has been a partnership effort from the beginning, with stakeholders and funders and the Warsop community. They have been telling us what they wanted to see in the parish, and now we are delivering it here. The change and impact this will bring to the community will be long-lasting and revolutionary.
"My thanks go out to everyone who has made this possible, and I look forward to seeing the project progress."
The Warsop Health Hub project aligns with the delivery of three of the council's corporate priorities: wellbeing, aspiration and place.
Levelling Up Minister Dehenna Davison said: "I'm delighted that work has started on a major community hub in the heart of Warsop, which is one of six projects we're supporting through our £12.3 million Town Deal for Mansfield.
"The Warsop Health Hub will be a huge asset for the area, helping to boost people's wellbeing with a new swimming pool and gym. It will also be furnished with fully accessible changing facilities, thanks to an additional £100,000 in government funding.
"This exciting project will be enjoyed by the community for years to come and again demonstrates the real benefits levelling up can provide for local people."
In 2019, Sport England jointly funded the Living Well in Warsop study with the council, which reviewed the leisure and community provision in the parish. Residents, businesses and organisations were all asked for their views at consultation events and in a community-wide survey. The outcome was a list of suggestions and ideas that would lead to the right mix of activities, services and facilities to meet the community's needs.
Lisa Dodd-Mayne, Executive Director, Place at Sport England, said: "Sport England's Uniting the Movement strategy aims to provide opportunities for all people to access sport and physical activity, regardless of their backgrounds, bank balance or postcodes and we know that having accessible and available facilities is essential in achieving this.
"We are pleased to see work starting on the Warsop Health Hub, which is one of the first facilities to use our new Leisure Local concept. The opportunities to take part in sport and physical activity that will be made possible by this development are exciting to see and will benefit the local community for years to come, helping people lead healthy and happy lives."
In March, Mayor Andy Abrahams took an executive decision to confirm the total project costs, the council's borrowing amount and to make Serco Leisure Ltd/More Leisure Community Trust the centre operator.
Brian Taylor, Chair of More Leisure Community Trust, added: "We're very proud to have been chosen as operators for this exciting new community-focused health hub, which looks certain to be warmly welcomed by local residents when it opens in June next year. We look forward to playing our part in improving the health and wellbeing of the people of this parish."