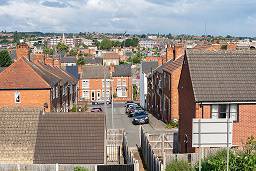 Now is the chance for people to have their say on an affordable housing strategy for the Mansfield district.
A six-week consultation begins today (6 March, 2020) on the Consultation draft of the Affordable Housing Supplementary Planning Document, which has been drawn up by Mansfield District Council as guidance to support the implementation of emerging Local Plan policies.
The document looks at matters such as the type, tenure and mix of affordable housing required in the district. The consultation period, until 5pm on Monday 20 April 2020, allows individuals, organisations and stakeholders to make their views known. Any comments will be made public.
Go to our Planning Consultations page to view the documents. The easiest way to comment on them is online via the Consultation Portal (opens in new window).
The council can also receive comments via email to lp@mansfield.gov.uk or in writing to Planning Policy, Mansfield District Council, Civic Centre, Chesterfield Road South, Mansfield, NG19 7BH.
People can view the documents in paper form during the consultation period at the Civic Centre and at other locations throughout the district.
They include:
Warsop Town Hall, Church Street, NG20 0AL (01623 846011)
Mansfield Library, Four Seasons Centre, West Gate, NG18 1NH (01623 677200)
Rainworth Library, Warsop Lane, NG21 0AD (01623 677200)
Ladybrook Library, Ladybrook Lane, Mansfield, NG18 5JH (01623 677200)
Warsop Library, High Street, Market Warsop, NG20 0AG (01623 677200)
Forest Town Library, Clipstone Road West, NG19 0AA (01623 677200)
Clipstone Library, First Avenue, NG21 9DA (01623 677200)
Mansfield Woodhouse Library, Church Street, NG19 8AH (01623 677200).
The district's new Local Plan is currently being considered by the government's Planning Inspectorate and is expected to be adopted by the council later this year. It will form a blueprint for future development in the district until 2033.
Cllr Stuart Richardson, Portfolio Holder for Regeneration and Growth, said: "We are getting to the end stage of the process to draw up the new Local Plan now, and affordable housing is obviously an important strand of that. We hope people interested in this aspect of the Plan will use this opportunity to take a look at the documents and comment constructively."