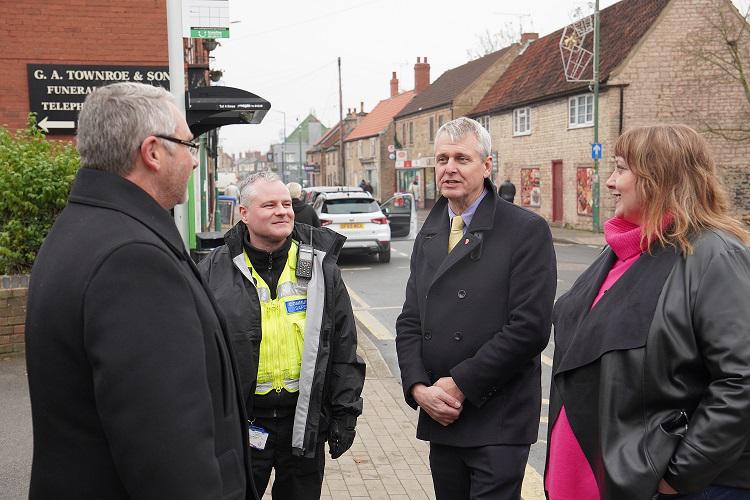 Women and girls in the Warsop area are being offered a mobile phone app which can help safeguard them by acting as a discreet panic button and body cam.
The initiative is part of a major Safer Streets scheme that has already seen new CCTV cameras installed in Warsop and focuses on helping women and girls feel safer.
Now, funding has been allocated to allow 200 residents in the Warsop area a year's free access to Hollie Guard Extra, an enhanced paid-for version of the free-to-download Hollie Guard phone app.
It gives users 24/7 access to a professional police-approved monitoring team who can send help if required.
Of the 200 funded subscriptions, 26 have already been distributed to residents, and 40 have been transferred to domestic abuse charity Women's Aid.
The remaining free subscriptions of the Extra app will be available for one year on a first-come, first-served basis to residents in the Warsop area. Anyone interested should email saferstreets@mansfield.gov.uk.
Portfolio Holder for Wellbeing, Health, and Safer Communities, Councillor Angie Jackson, said: "This technology is available at your fingertips. I would encourage anyone who feels they need help to stay safe to download this app.
"For those who feel more vulnerable and need additional support, the Extra version will give them peace of mind that there is somebody available in times of need.
"I hope that this app, along with the other Safer Streets measures in place, will lead to a greater sense of safety and wellbeing among the residents of Warsop, particularly women and girls."
Anyone can download the basic Hollie Guard app free from the App Store or Google Play.
The app acts as a discreet panic button that can be activated in stealth mode by shaking it or tapping it without indicating to those around that a user is on their phone.
It tracks the users' precise location in real-time so that if they activate an alert, the app pinpoints a location and sends details to a user's chosen emergency contacts.
It also activates the phone's camera and microphone to capture evidence. A user's emergency contacts can access these recordings in real time.
The recordings are not stored on the user's phone but on cloud-based secure servers for future use as evidence.
The app also has a timer function that enables users facing a potentially dangerous meeting or situation to set a specific countdown. If a user marks themselves as safe, the countdown is deactivated. If it is not de-activated, an alert will automatically be sent once the countdown reaches its limit.
Another feature of the app is being able to log a journey. Users set a start and end point. The app then monitors a user's journey and alerts their nominated contacts, and once they mark they have safely arrived, it triggers an alert.
The Extra paid-for version of the app also sends any panic button alerts to a control centre staffed 24/7 by a professional police-approved monitoring team, who will respond if app users are in danger or if a user's emergency contacts are unable to respond.
All app users can choose when to share their location and have control over their data.
The Hollie Gazzard Trust developed the app to protect women and men from possible danger. The Trust was set up by the parents and sister of Hollie Gazzard, who was murdered by an ex-partner in 2014 at her place of work in Gloucester.
The app aims to complement other elements of a £300,000 Safer Streets scheme in the Warsop area.
It is part of a wider £3m campaign funded by the government via the Office of the Police and Crime Commissioner for Nottinghamshire for projects across the city and county.
Nottinghamshire Police and Crime Commissioner Caroline Henry said: "Preventing violence against women and girls is one of my top priorities in the Make Notts Safe Police and Crime Plan because females are so disproportionately affected by violence.
"Safer Streets funding gives us a unique opportunity to put in place a range of measures to tackle this problem and help women and girls feel safer when they are out in public.
"The free offer of the Hollie Guard app is just another example of thinking outside the box and ensuring we've got all angles covered when it comes to being safe - and feeling safe. It gives users the peace of mind that they have help at hand if they need it."
In the Mansfield District, these initiatives are being delivered in partnership with Mansfield District Council, the police and other support agencies.
The crime-busting measures in Warsop include 11 new state-of-the-art CCTV cameras which can rotate to give a 360-degree street view.
Some use the latest technology to act as a safe point. These safe points are monitored 24 hours a day and will allow people in distress to press a button on the camera column which gives them direct access to the council's CCTV control room to ask for help
New automatic number plate recognition cameras have also been added, and street lighting has been improved in parts of the neighbourhood.
The scheme also supports families and youth work to help prevent anti-social behaviour by encouraging young people to make alternative life choices and offering them diversionary activities.