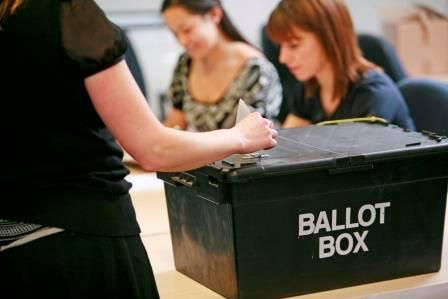 This page will be updated with information about the 2023 local elections as they come in.
Mayoral election results 2023
The full results of the Mansfield Mayoral election 2023 are as follows (in alphabetical order):
Andrew Abrahams – Labour, 9,987 (ELECTED)
Mick Barton – Mansfield Independents, 4,992
Andre Camilleri – Conservatives, 5,832
Karen Seymour – TUSC, 420
Julie Tasker-Love-Birks – Independent, 936
First past the post electoral system
The Mayoral elections previously used the Supplementary Vote system, where voters could choose a first and second choice vote. Now, voters have chosen a single candidate on the ballot paper. The candidate who had the highest overall total of votes was declared the Executive Mayor of Mansfield.
Electorate: 80,855
Mayoral turnout: 27.68%
District turnout: 27.57%
District Council election results 2023
District Council Election Results 2023
The results for the Bancroft ward:
Mandy Jackson (MI) - 95
Robert Learmonth (Cons) - 84
Sue Swinscoe (Lab) - 286 (ELECTED)
Denise Tooley-Okonkwo (TUSC) - 12
Turnout - 20.75%
The results for the Berry Hill ward:
Stephen Bodle (MI) - 231
Andre Camilleri (Cons) - 457 (ELECTED)
Michelle Laing (Lab) - 214
Turnout - 41.34%
The results for the Brick Kiln ward:
Faith Bekis (Cons) - 92
Terry Clay (Lab) - 306 (ELECTED)
Deb Hodson (TUSC) - 13
Ben Hollywood (MI) - 75
Turnout - 24.05%
The results for the Carr Bank ward:
Michael Abbs (Lab) - 206 (ELECTED)
Kelvin Peters (Cons) - 72
Stuart Wallace (MI) - 175
Turnout - 20.89%
The results for the Central ward:
Charles Anderson (Cons) - 70
Charles Hammersley (Lab) - 235 (ELECTED)
Andy Johnson (MI) - 98
Paul Tooley-Okonkwo (TUSC) - 18
Turnout - 19.62%
The results for the Eakring ward:
Joshua Charles (Cons) - 189
John Metcalfe (Lab) - 257 (ELECTED)
Stuart Rickersey (MI) - 172
Turnout - 26.08%
The results for the Grange Farm ward:
Leah Hartshorn (Lab) - 210
John Roughton (Cons) - 157
Petek Sato (TUSC) - 15
June Stendall (Ind) - 467 (ELECTED)
Turnout - 35.69%
The results for the Holly Forest Town ward:
Shelly Burnett (TUSC) - 11
Bo Hitchmough (Cons) - 90
Donna Thomas (Lab) - 165
Martin Wright (MI) - 439 (ELECTED)
Turnout - 29.25%
The results for the Hornby ward:
Vic Bobo (Cons) - 208
Anne Callaghan (Lab) - 316 (ELECTED)
Ruth Ford (MI) - 176
Turnout - 32.25%
The results for the Kings Walk ward:
Rouchelle Evans (Lab) - 211
Stephen Harvey (Ind) - 66
Liz Langrick (Cons) - 218 (ELECTED)
Kev Brown (MI) - 109
Turnout - 26.92%
The results for the Kingsway ward:
Robert Corden (Cons) - 234
Angie Jackson (Lab) - 301 (ELECTED)
Gio Loperfido (MI) - 151
Turnout - 27.23%
The results for the Lindhurst ward:
Tom Birchall (MI) - 78
Neil Smith (Cons) - 127
Rich Tempest-Mitchell (Lab) - 281 (ELECTED)
Turnout - 34.78%
The results for the Ling Forest ward:
Andrea Dickens (TUSC) - 7
Bill Drewett (MI) - 215
Nigel Moxon (Cons) - 223 (ELECTED)
Zoe Newton-Lawrence (Lab) - 181
Turnout - 29.53%
The results for the Manor ward:
Paul Lawrence (Cons) - 212
Jayne Riddin (MI) - 138
Craig Whitby (Lab) - 368 (ELECTED)
Turnout - 29.09%
The results for the Market Warsop ward:
Debra Barlow (Ind) - 172
Joe Johnson (MI) - 50
Jack Stephenson (Lab) - 222 (ELECTED)
Rita Townsend (Cons) - 55
Ruth Truswell (TUSC) - 6
Turnout - 25.16%
The results for the Maun Valley ward:
Mick Barton (MI) - 425 (ELECTED)
Shane Draper (Lab) - 207
Karen Seymour (TUSC) -12
Keith Townsend (Cons) - 137
Turnout - 30.14%
The results for the Mill Lane ward:
Caroline Ellis (Lab) - 287 (ELECTED)
Shirley Peters (Cons) - 138
Andrea Russell (MI) - 189
Turnout - 28.39%
The results for the Meden ward:
Denise Answer (MI) - 101
Grant Bembridge (Cons) - 166
Andy Wetton (Lab) - 433 (ELECTED)
Turnout - 27.73%
The results for the Netherfield ward:
Timothy Bower (Cons) - 116
David Hughes (Lab) - 298 (ELECTED)
Philip Shields (Ind) - 135
Turnout - 26.76%
The results for the Newlands Forest Town ward:
Pippa Clements (Cons) - 108
Andrew Shooter (Lab) - 158
Sid Walker (MI) - 210 (ELECTED)
Turnout - 22.96%
The results for the Oak Tree ward:
Gemma Canlin (MI) - 105
Paul Henshaw (Lab) - 186 (ELECTED)
Nick Marks (Cons) - 149
Milo Tooley-Okonkwo (TUSC) - 3
Turnout - 23.22%
The results for the Oakham ward:
Robert Elliman (Cons) - 309
Stephen North (Lab) - 357 (ELECTED)
Craig Sims (MI) - 136
Turnout - 34.87%
The results for the Park Hall ward:
Jacob Denness (Lab) - 299 (ELECTED)
Dean Ellis (MI) - 204
Alice Kurylo (Cons) - 212
Turnout - 28.78%
The results for the Penniment ward:
Adam Brailsford (TUSC) - 17
Stuart Richardson (Lab) - 313 (ELECTED)
Michael Shilladay (Cons) - 87
David Smith (MI) - 253
Turnout - 32.65%
The results for the Pleasley ward:
Chris Clarke (Green) - 53
Sharon Hartshorn (Lab) - 200 (ELECTED)
Jak Shuttleworth (Cons) - 82
Brian Wheatcroft (MI) - 74
Turnout - 23.22%
The results for the Racecourse ward:
Steve Garner (Ind) - 405 (ELECTED)
Rob Kinton (Lab) - 196
Vicki Wright (MI) - 102
Turnout - 27.23%
The results for the Rock Hill ward:
Shaun Anthoney (MI) - 57
Mark Garner (Ind) - 163
Diana Mckenzie (Lab) - 212 (ELECTED)
Julie Robinson (Cons) - 57
Turnout - 20.63%
The results for the Rufford ward:
Barry Answer (MI) - 266 (ELECTED)
Garry Cole (Lab) - 264
Gareth Corden (Cons) - 130
Shaun Thornton (Green) - 26
Turnout - 27.8%
The results for the Sherwood ward:
Alan Bell (Lab) - 279 (ELECTED)
Emma Camina (Cons) - 114
Teresa Hanstock (MI) - 193
Turnout - 27.60%
The results for the Southwell ward:
Elliott Brown (Cons) - 105
Charlotte Inkle (Lab) - 265 (ELECTED)
Craig Vernon (MI) - 84
Turnout - 22.35%
The results for the Thompsons ward:
Sinead Anderson (Cons) - 348 (ELECTED)
Dennis Robinson (Lab) - 253
Roger Sutcliffe (MI) - 327
Turnout - 36.25%
The results for the Vale ward:
Jane Beachus (Lab) - 303 (ELECTED)
Wendy Cook (MI) - 146
Gill Maharjan (Green) - 19
Michelle Swain (Cons) - 83
Turnout - 24.03%
The results for the Wainwright ward:
Lynn Henshaw (Lab) - 280 (ELECTED)
Ian Sheppard (MI) - 115
Beverley Smith (Cons) - 99
Turnout - 23.44%
The results for the Warsop Carrs ward:
Ben Bonser (MI) - 57
Andy Burgin (Lab) - 491 (ELECTED)
Robyn Hendley (Green) - 21
Barbara Henson (Cons) - 110
Turnout - 26.89%
The results for the West Bank ward:
Ben Brown (Cons) - 240 (ELECTED)
Faz Choudhury (MI) - 178
Sally Higgins (Lab) - 208
Tony Jones (Reform UK) - 28
Turnout - 29.82%
The results for the Yeoman Hill ward:
Stuart Butler (MI) - 110
John Coxhead (Lab) - 339 (ELECTED)
Andy Tyler (Cons) - 126
Turnout - 25.12%
Warsop Parish Uncontested Election 2023