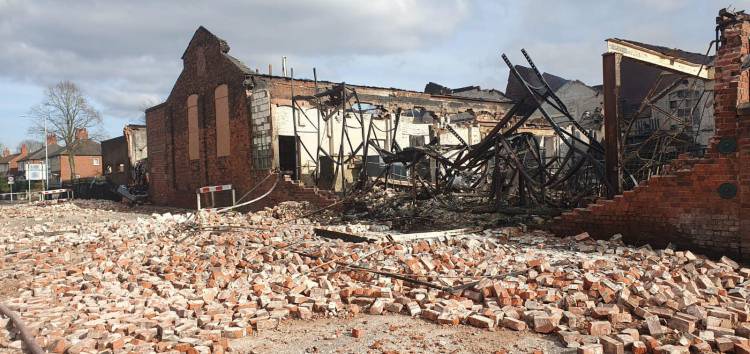 An update regarding next steps following the industrial fire.
Update - 2.23pm 29 March 2023
Specialist contractors have removed debris from more than 40 affected properties in the Forest Road area and will now stand down their onsite presence.

Residents in the immediate area who still require assistance should contact Mansfield District Council on 01623 463463 or email mdc@mansfield.gov.uk and add FIRE to the subject heading.
The guidance from the fire service to keep windows closed is no longer in place and in the days immediately after the fire, the Environmental Agency Air Quality Cell considered the air quality risks to be low. UK Health Security Agency has also advised that the risks to health are low and the investigation by the Environmental Agency reported that there were "no chemicals or asbestos involved" so is unlikely to be any exposure to these things. However, the specialist contractors carried out a thorough clear-up of debris as a risk mitigation.

The fire investigation is ongoing, however the site has been handed back to the owners and any further works regarding the demolition of the site and road closures are the responsibility of the owners and their insurers.
You can visit our dedicated webpage for more FAQs and updates regarding the incident www.mansfield.gov.uk/forestroadfire.

We'd like to thank residents once again for their ongoing support and patience during the response to the fire.


---

Update - 3PM Friday 24 March
Specialist contractors were appointed to carry out an emergency clean-up following the industrial fire at Forest Road, Mansfield.

So far, the immediate area around the site of the fire has been cleared, along with debris from a number of houses in Sandhurst Avenue and Bessemer Drive. Their work will continue into early next week.

Mansfield District Council will continue to support the wider clean-up operation in the area around the Forest Road industrial fire.

Call to action for residents: If you live in a property on Sandhurst Avenue, Bessemer Drive, Anvil Court or Forest Road that hasn't yet been cleared of fire-related debris, please contact us so we can talk to you about the wider clean-up.

Email us at mdc@mansfield.gov.uk and use the subject heading FIRE or call us on 01623 463463 at your earliest convenience. Please provide us with your name, address and contact details, along with a short description of what debris remains at your property. You may wish to include an image to support your request.

Residents are asked not to clear any fire debris themselves.

Thank you for your ongoing patience and support with this matter as the investigation into the fire continues.

We'd also like to thank Nottinghamshire Fire and Rescue Service, Nottinghamshire Police, Nottinghamshire County Council, and Arc Partnership for their work in supporting our residents through the emergency response.