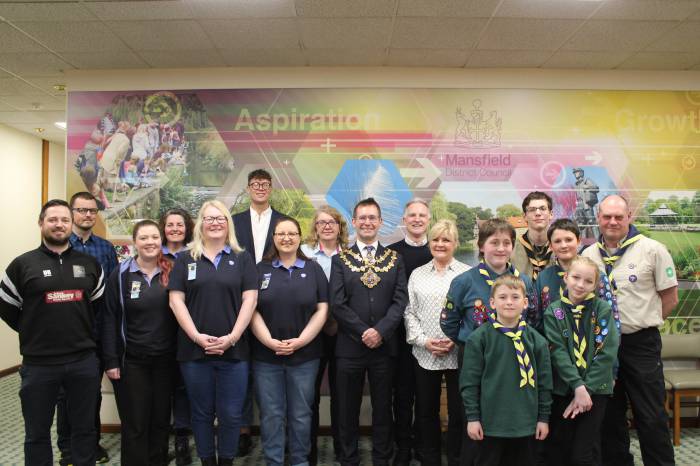 Thirteen good causes in Mansfield have succeeded in the latest Mayor's 500 Fund round.
Among the winning bids, totalling £3,200, were 4a Mansfield St John's Guides, Little Treasures, St Lawrence Youth Fellowship and Keep Woodhouse Tidy.
The Mayor's 500 Fund is a percentage contribution from the Executive Mayor Andy Abrahams' net salary to provide a cash injection of up to £500 for local groups, individuals and volunteers to deliver a specific project in the Mansfield community.
The money can be used for equipment, promotions and materials as well as revenue and capital but must benefit the community directly.
Mayor Andy said: "It was so pleasing to see that we had many more worthwhile applications to the 500 Fund yet again, so it was tough to choose which should benefit this time around.
"Mansfield is fortunate to have so many community groups, charities and organisations who are working hard to support residents and children in the district, despite these challenging times we find ourselves in currently.
"Their work is invaluable, and I am proud to be doing my bit to support them."
Applications to the 500 Fund are approved by a panel of officers and the Mayor. In the last four years, a total of £25,078 has been donated.
The successful bids to the Mayor's 500 Fund were:
4a Mansfield St John's Guides (£200) for transport costs for day trips and printing handbooks.
4a Mansfield St John's Rainbows (£200) for rainbow sleepovers to help develop independence.
5

th

Mansfield St Peter's Parish Church Brownies and Guides (£200) to support the regular programme, recruit more girls and print handbooks.
10

th

Mansfield Scout Group (£200) to purchase a climbing kit.
CESM Glimmer Tots (£200) to purchase sensory equipment.
Cockle FC (£200) help with the continuation of a new football club by covering pitch fees, additional equipment, and hire costs for training pitches.
Girlguiding (£200) to host an event for the King's Coronation.
Help for Heroes (£200) supporting Peter Short walking 200k to raise money for the veteran's charity.
Keep Woodhouse Tidy (£200) towards litter picking materials, banners and wildflower seeds.
Little Treasures, St Lawrence Church (£200) to create a food pantry, purchase baby equipment and additional storage.
Polish Scouting Association (£200) towards new uniforms for members.
St Lawrence Youth Fellowship (£200) to cover heating and electric costs to keep the building running and to replenish activity equipment.
Warsop Youth & Community (£200) for new equipment, building maintenance and paying staff for their time.