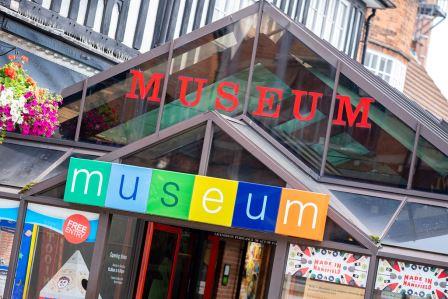 Mansfield's Executive Mayor Andy Abrahams has hailed the council's Cultural Services team for leading the way in promoting access to the arts to promote good health and wellbeing.
As the country marks National Social Prescribing Day on Thursday 9 March, Mansfield District Council is shining a spotlight on its Cultural Services which have spearheaded various community based projects that support the concept of "Arts on Prescription".
Mayor Andy said: "From helping survivors of domestic abuse to people who just need a friendly face and a chance to make new friends, our Cultural Services schemes have been brilliant at reaching all those in our community who need that helping hand.
"I have said many times that Mansfield cares and none more so than our fantastic teams at the Palace and Museum who always go that extra mile to make everyone in our community feel welcome and included.
"Arts of Prescription, or social prescribing as it is often called, is when arts activities are prescribed instead of, or as well as, medication or other therapies.
"It is a really worthwhile and useful concept in promoting better health and wellbeing because studies have shown that being involved in creative and socially engaging activities helps people recover from or manage chronic conditions.
"I am proud that the council and its Cultural Services team are leading the way in offering this kind of support to people in this district.
"I would also like to thank all the funding bodies involved for their vital support for these schemes, and players of the National Lottery whose Heritage Fund has been among those who have enabled us to offer these projects."
Among the activities that aim to help and connect people are:
Make a Start: Thursdays 11.30am to 1pm, at the museum - a support group aimed at those with long-term health conditions or poor mental health. If offers a free cuppa and a biscuit, creative activities, friendship and laughter.
Sanctuary Café: Every other Thursday 12pm to 3pm at the museum - offers a cuppa and a biscuit, pop-up activities, and a warm welcome and safe and inclusive space for anyone seeking sanctuary and particularly non-English speakers, refugees, asylum seekers, migrants and immigrants.
Reminisce Tearoom: Third Wednesday of the month at the museum, 1.30pm to 3pm - offers a free monthly social event which is ideal for people with memory impairment, their friends and family.
Out of the Box: Thursdays, 7.30pm to 8.30pm at the musuem - offers a relaxed session for adults on the autistic spectrum or with a learning disability to explore their creativity, develop life skills and make new friends.
Art Power: For women, often with vulnerable or traumatic backgrounds, to inspire their creativity, build self-confidence and make friendships as they explore the museum's collection.
Volunteer Programme: A mix of busy, creative or more gentle activities. Volunteers welcome visitors to the theatre (and can watch the shows, too), help out in our museum by greeting visitors or by helping to look after the collection.
Make a Start was initially set up in 2021 to help vulnerable or elderly people get back on their feet after being isolated throughout the pandemic. It has since evolved to help anyone feeling isolated through long-term illness or mental health issues.
Referrals to the group usually come via NHS agencies for patients with one or more long-term conditions, or who need support with mental health problems, loneliness or isolation, or who have complex social needs. It was set up after a successful bid by the council to government's Culture Recovery Fund.
Art Power, a two-year project funded by £89,680 from the Esmée Fairbairn Foundation, is marking its first anniversary on International Women's Day on 8 March, with an exhibition of work by its users on display until 31 March. Referrals to the group usually come from domestic abuse support organisations but women can self-refer, too.
Arts on prescription aligns with the council's long term priority to improve the wellbeing of local people and has the support of Mansfield Health Partnership, a strategic multi-agency group set up in 2019 to improve the health outcomes of people in the area.
To find out more about the social prescribing schemes at the museum contact its Learning and Aspiration Manager, Christopher Neil by email (link opens in email app) or calling 07903 560056.
Mansfield Museum can be found on Leeming Street and is open 10am to 3pm, Tuesday to Saturday. It can be found on Facebook, Instagram and Twitter using the tag @mansfieldmuseum or visit the museum website (link opens in new window) for more details of events and activities.