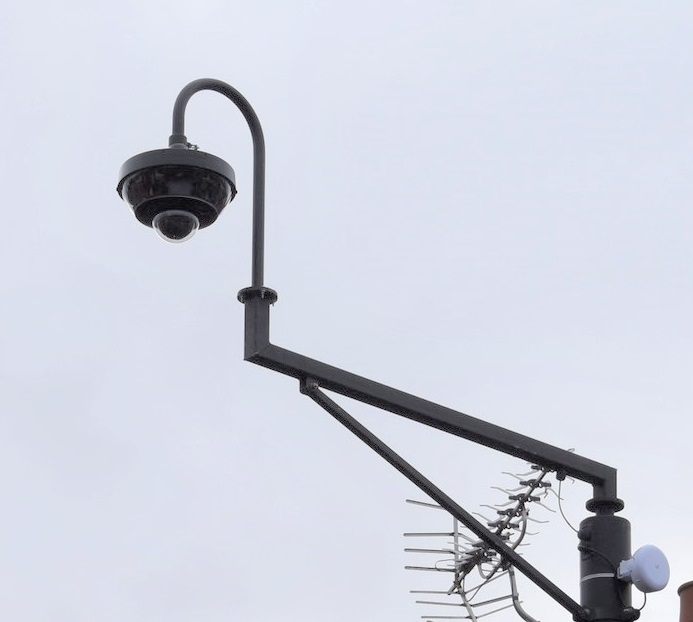 New state-of-the-art CCTV cameras have started to be installed in Warsop as part of a major community safety project.
The high-spec cameras can rotate to give a 360-degree street view and are being installed around the area including the High Street.
They are part of a huge package of crime reduction measures being paid for by national Safer Streets funding, after the Office of the Police and Crime Commissioner for Nottinghamshire was successful in a bid for £3 million for projects across the city and county.
Over £300,000 of community safety measures and improvements are being carried out in Warsop and other parts of the Mansfield district, delivered in partnership with Mansfield District Council, the police and other support agencies.
So far eight of 11 new cameras have been installed. They are being put up in Carr Lane Park, Coral Crescent, Clumber Street, Sherwood Street and The Carrs Local Nature Reserve.
As part of the wider project for the area, new automatic number plate recognition cameras have also been added to help the police catch law breakers in the area.
The camera at The Carrs, near the children's play area, uses the latest technology to act as a safe point. These safe points are monitored 24 hours a day and will allow people in distress to press a button on the camera column which gives them direct access to the council's CCTV control room to ask for help.
Staff in the control room will be able to advice the person asking for help immediately and direct them to their nearest "Safe Space" or, if necessary, ask the police to attend.
Safe Spaces are places such as local shops and businesses that have signed up for CCTV cameras and special staff training in how to support people who come through their doors looking for help.
They will display Safe Space signs to make them visible and give women and girls the peace of mind that help is close at hand while they are out and about.
Other cameras and safe points are being installed in Carr Lane, near Warsop Army Cadet base, and Sherwood Street, near the junction with Short Street. A help point without a camera is being installed near the junction of Sherwood Street and High Street.
Some existing CCTV cameras in the area are being upgraded. These include those near the library and near The Talbot pub in High Street; in Sherwood Street (near Clumber Street); Burns Lane (near Sherwood Street); Church Street (near Sherwood Street traffic lights); and in Church Street (near Hetts Lane).
Executive Mayor of Mansfield Andy Abrahams, who last week (22 February) joined council officers for a community clean-up as part of the Safer Streets scheme in the area, said: "In Warsop, the safety of women and girls was identified as a key concern and I am pleased that this community safety project is delivering real and tangible improvements.
"We want people in Warsop to feel safer and be able to get out and about with confidence. This is fundamental to improving the quality of life for the people of this area."
The Mayor was joined by Cllr Andy Burgin, Portfolio Holder for Environment and Leisure, for the tidy-up which included litter picking, graffiti removal, and removing fly-tips.
"This Day of Action was in addition to normal council street cleansing in Warsop. A cleaner, well maintained environment helps people feel safer in their neighbourhoods and, we would like to think, engenders a sense of pride in the people to care for their communities which will help the town to remain clean and tidy," said Cllr Burgin.
Nottinghamshire Police and Crime Commissioner Caroline Henry said: "CCTV plays a great supporting role in keeping our public spaces safe. We know from surveys and focus groups that many women and girls say they often plan their walking routes along places where they know there are CCTV cameras because it makes them feel safer.
"Along with the police and council community safety officer patrols that already happen in Warsop, Safer Streets investment is providing some real added support to the town, with CCTV and automatic number plate recognition cameras, businesses offering themselves as Safe Spaces for anyone who needs help, and a range of environmental improvements to make the area feel cleaner, brighter and safer."
Nick Hollins, Key Account Manager at TIS, the Mansfield-based company, providing the CCTV, said: "We are very proud and delighted to support Mansfield District Council and the Commissioner in this scheme to provide enhanced public safety and crime prevention.
"We are a local business and have always put ourselves at the forefront of innovation and technical solutions. The High Definition IP Cameras being installed have pan, tilt and zoom capability plus four fixed lens cameras to form a compact multi-sensor CCTV package."
The project in Warsop included funding for improved street lighting and giving 190 women free access to the Hollie Guard personal safety mobile phone app.
A simple shake or tap can active the app when people are in danger, immediately notifying their chosen contacts, pinpointing their location and sending audio and video evidence directly to the contact's mobile phones.
The scheme is also funding support for families, and youth work to help prevent anti-social behaviour by encouraging young people to make alternative life choices and by offering them diversionary activities.