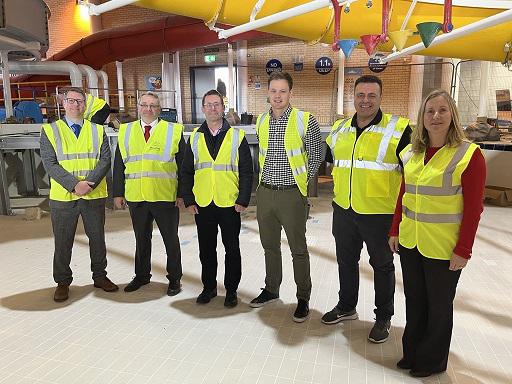 Extensive upgrade works at a Mansfield leisure centre, which will see the installation of new facilities in the pool, a revamped changing room and a climbing wall, are gathering pace.
The works at Water Meadows Leisure Complex are part of a £1.8m scheme to transform the amenities and are expected to open to the public during the February half-term.
The Mayor, Portfolio Holder for Environment and Leisure Andy Burgin, Chief Executive of the council Adam Hill and Leisure and Community Wellbeing Manager Marie Clay were given a site tour and an update of the works this week by More Leisure.
Elected Mayor Andy Abrahams said he was thrilled to see such progress at the centre.
He said: "To see the renovation works fully underway now is just so exciting, and it is really helping to make Mansfield a destination place for our leisure facilities so people from all around the district and beyond can come and enjoy them with all the family.
"With the upgrades planned, I believe it truly transforms the offering available to our residents and provides an improved experience. These works, although they may seem disruptive due to the closures and noise, will benefit our community long-term, and I look forward to seeing it all finally come together in the coming weeks."
The Water Meadows centre is being transformed and will see the installation of a brand new Splash Pad in the Pirate Pool, an improved café area, a Climbing Zone wall, and a complete state-of-the-art refurbishment of the changing facilities for all users on site.
Jack Garner, Contract Manager for More Leisure Community Trust, said: "We were delighted to welcome the Mayor, Portfolio Holder and the Chief Executive from Mansfield District Council to Water Meadows Leisure Complex to update them on the ongoing refurbishment.
"As well as the additional upgrades in the pool, café and climbing wall, our gym has also undergone a much needed renovation and is already open to the public with state-of-the-art equipment which will see a much-improved experience for our members. We know that these works will be a benefit to the whole Mansfield community and we can't wait to show you all the finished product later in the year.
"We've taken a brilliant site and given it a much-needed facelift. We want to turn Water Meadows into somewhere that all Mansfield residents can be proud of - while also increasing the number of visitors into the town."