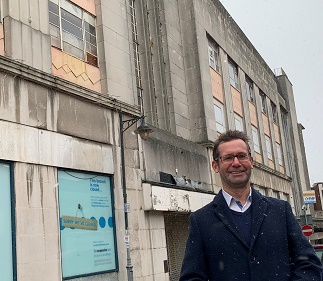 Mansfield District Council has been awarded a total of £20m from the Government's flagship Levelling Up Fund.
The Mansfield Connect project is one of 11 projects in the East Midlands that has been allocated more than £176 million from round two of the Levelling Up Fund.
The landmark 1930s former Beales building is set to be modernised and extended to provide a new headquarters for the council. It is expected to house a variety of other public, educational, enterprise and health and wellbeing services alongside spaces for private sector investment.
Elected Mayor Andy Abrahams said he was thrilled that the bid had been successful and hoped it would now unlock the town's full potential with the Mansfield Connect project.
He said: "The wait may have been agonising, but I am elated to see that we have received approval for our full bid of £20m from the Government's Levelling Up Fund. The Mansfield Connect project will offer a once-in-a-generation opportunity to develop new solutions to some of the district's challenges.
"The scheme forms a vital part of our ambitious long-term town centre regeneration plans. Our new multi-agency civic and community hub at the former Beales department store will see a new multi-partner facility and provide a new headquarters for the council.
"But it's not just about the council. This new hub will see the co-ordination of services across a range of partners including, the County Council alongside community, health, work and education and skills agencies. It will also be a beacon for evening activities with potentially dining, lifestyle and business opportunities.
"The building has long needed repurposing and will be brought back to life to rejuvenate our town centre. This repurposing will then have a knock-on effect, stimulating our local economy and encouraging private-sector investment into Mansfield District, which benefits everybody.
"Mansfield Connect will improve the coordination and delivery of public services to our residents – acting as a one-stop shop. Mansfield Connect is all about connecting our place, our communities and our services for the benefit of the district and its residents.
"It will also generate extra footfall in the town centre and act as a catalyst for wider development, stimulating both the day and night-time economy in the town centre. Linked to our Towns' Fund programme, this marks a radical step forward for Mansfield.
"I look forward to sharing more updates on this project in due course, but in the meantime, my thanks go out to all our partners and organisations who helped bring this successful bid to fruition."
To date, the Department for Work and Pensions, Nottinghamshire County Council, Vision West Nottinghamshire College, Nottingham Trent University, NHS health partners, and volunteering co-ordinator the CVS have all expressed interest in being involved in the new hub.
Levelling Up Secretary Michael Gove added: "We are firing the starting gun on more than a hundred transformational projects in every corner of the UK that will revitalise communities that have historically been overlooked but are bursting with potential.
"This new funding will create jobs, drive economic growth, and help to restore local pride. We are delivering on the people's priorities, levelling up across the UK to ensure that no matter where you are from, you can go as far as your talents will take you."
Mansfield Connect forms part of the council's wider ambitions for the town, being drawn up in the emerging Town Centre Masterplan and aligns with broader Mansfield District Council strategies promoting Growth, Aspiration, Wellbeing and Place.

The Government has also confirmed there will be a further round of the Levelling Up Fund, providing more opportunity to level up places across the UK.