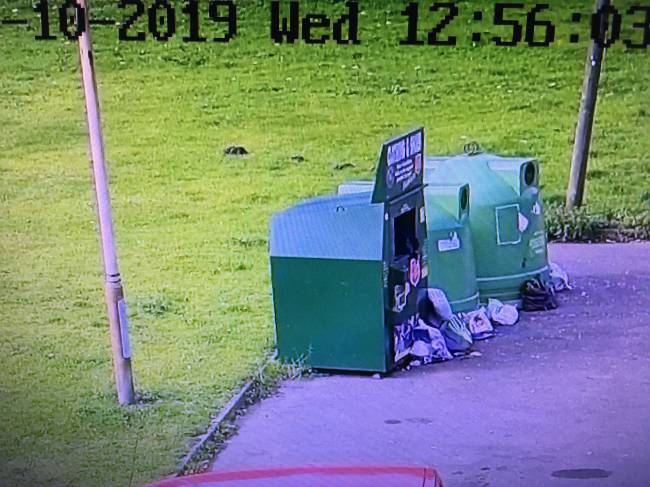 CCTV has captured dozens of fly tippers and led to Mansfield District Council issuing more than £2,000 of fines since October.
A temporary deployable camera was positioned at the council owned car park in Barringer Road opposite the River Maun Recreation Centre from 18 October 2019 to 13 January 2020 in a crackdown on anti-social behaviour and fly tipping.
During that time it logged 55 vehicles implicated in fly tips left at the bottle and clothing bank in the car park.
Before Christmas, 30 fly tips led to 11 £200 Fixed Penalty Notices (FPNs) being issued to people who dumped unauthorised rubbish at the recycling point. Another incident led to one person being issued with a £75 FPN for littering.
Since Christmas there have been a further 25 fly tipping incidents captured by the camera and there are 16 investigations ongoing.
A CCTV camera was deployed at the car park to try to tackle fly tipping and also anti-social behaviour after bottle banks were destroyed by being set on fire.
Actions to tackle these problems tie in with a wider council strategy to make Mansfield and greener, cleaner and safer place and encourage local people to have pride in their district.
Cllr Amanda Fisher, Portfolio Holder for Communities and Wellbeing, said: "Fly tipping is not acceptable behaviour and we are just not going to allow people who make this sort of mess get away with it.
"We fully intend to continue to use CCTV cameras and catch fly tippers in this district. We have six deployable cameras that we can put in fly-tip hotspots at very short notice and this modern technology captures clear images that can be used in prosecutions as evidence.
"It is quite mystifying why people continue to leave bags of general waste - and even sofas and other furniture - at this recycling point rather than taking them to one of two tips which are just a ten-minute drive away. And it is not even a covert camera that is catching them. They fly tip waste despite a CCTV camera being in full view.
"Why would anyone risk a £200 fine, and potentially a criminal record, just to get rid of a bag of general waste or a bit furniture, especially when there is somewhere they can dispose of their waste legally just down the road?
"Sometimes people may genuinely not realise they cannot leave bags of extra waste at this recycling point. But other people are fly tipping knowingly, despite the camera.
"The problem not only creates largely unnecessary work for the council's Neighbourhood Wardens who have the often unsavoury task of investigating these fly tips, it also diverts council money and officer man hours which could be spent in better ways for the good of the district.
"The result of this persistent problem in Barringer Road could lead to the council removing this recycling point altogether to keep the car park cleaner and tidier and encourage people to dispose of their waste responsibly."
The council is now investigating whether to remove the bottle banks or keep them with signs warning people to use the recycling point only to dispose of glass and clothing, and to take pride in their local environment by helping to keep it clean and tidy.
The nearest alternative clothing and bottle banks are in the car park of Asda in Forest Town and there are full recycling centres in Kestral Road, Mansfield and Oakfield Lane, Warsop.