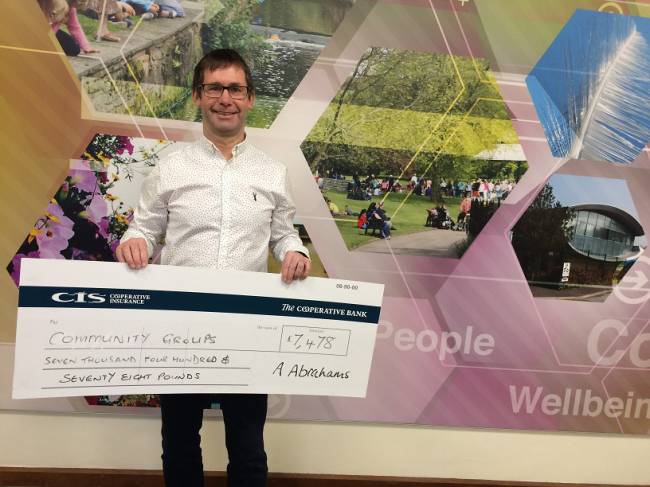 The latest awards from the Mayor's 500 Fund in Mansfield have seen 15 good causes receive grants.
The fund again attracted a large number of applications and among the successful bids were a school, parks groups, a drum corps, a charity to support cancer patients and a local foodbank.
Executive Mayor of Mansfield Andy Abrahams said: "We had so many worthwhile applications for funding so it was really difficult to choose which should benefit.
"I have tried to be as fair as possible, making sure that the applications that were unsuccessful last time were considered first. Priority has also been given to organisations who are just starting up and those who haven't received funding previously from any of our other funding schemes.
"I think people will agree we have some fantastic volunteers in Mansfield who really deserve our support. Those who were unsuccessful this time should keep trying as their time will come and they may be successful next time."
Most of the successful bids will receive £500 from the fund, with this round of donations topping £7,478. The fund was set up last year after the Mayor pledged to give away 30% of his annual allowance to local good causes. So far, he has donated more than £11,200.
Applications to the Mayor's 500 Fund can be made three times a year. The fund is administered by a council finance officer and applications are approved by a panel of officers and the Mayor.
News of when applications will re-open will be made via the council's Facebook page and on the council website at www.mansfield.gov.uk/mayors500fund.
Groups, associations and individuals can apply for up to £500 to support projects in their area. The funding can be used for revenue and capital but it must bring direct benefit to the community. The grant can be used for things such as running costs and technology, materials and events.
The successful bids this time were:
Abbey Primary School - for a polycarbonate greenhouse on the school's allotment which is cared for by 28 children and two teaching assistants. The pupils plan to grow plants and flowers to sell to parents to raise funds for the group.
Berry Hill Park Junior Park Run - this is a new initiative which aims to hold a free timed run every Sunday at Berry Hill Park for young people. It is hoped the scheme will promote health and well-being among youngsters and encourage families to use the park and live a more active life.
Extra Care Baby Bank - this group collects donations of baby/children's clothes, equipment, nappies and food to help local families in need. The funding will buy more clothes and equipment required over the winter period, as well as Christmas treats for families.
Friends of Manor Park - this newly formed group aims to improve Manor Park for the local community and the wildlife and will spend the money on litter pickers, gloves, spades and shovels for tidy-ups and planting.
Ida's Dreams - this new charity supports bereaved parents by creating items such as memory blankets, animals, bunting and cushions from a child's clothing.
Ladybrook Enterprises Ltd, for IMPACT Group - IMPACT is a self-help group to support people affected by cancer. It meets under the umbrella of Ladybrook Enterprises, a well established community group that works with local authorities, the local community, voluntary and other organisations. The funding will provide 15 weeks of room hire.
Mansfield District Corps of Drums - which will use the funding to buy more instruments and uniforms.
Mansfield Junior Badminton Club - to help purchase new rackets and shuttlecocks.
Maun Refuge - supports the integration of the Syrian refugees, complementing the work of the council, by providing English classes and volunteering opportunities for families.
Nottinghamshire Mining Museum Ltd - which will use the funding to buy an additional phone and goggles to allow more children and adults to experience the museum's virtual reality coalmine.
Friends of Ladybrook Park - this is a newly formed group which aims to revamp the park and plans to use the funding to print flyers and publicise the group and its activities.
Trussell Trust Mansfield Foodbank - the funding would support the running costs of the group.
Unanima Theatre - a professionally led company which creates and performs theatre with a cast made up of adults with disabilities. The group wants to use the money to hold masterclasses from visiting professionals, craft sessions and help make two recent productions tour-ready.
Vibrant Warsop - awarded £478 to help provide equipment for litter picks every Tuesday afternoon, working with Meden School on a local regeneration project.
Warsop Athletic Football Club - to purchase new training equipment as the club is seeking to expand and include younger teams.