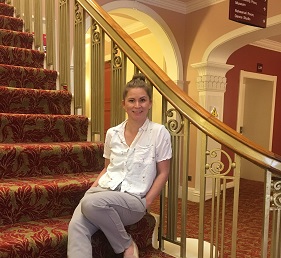 Mansfield Palace Theatre is entering a new phase in its history and the start of a new act, with the appointment of Sian Booth as Cultural Services Manager.
Sian will oversee the Theatre and Mansfield Museum, as well as the wider cultural offer from Mansfield District Council. She joins the team from Doncaster's Cast theatre, where she was Head of Marketing and Communications. Originally from Nottingham, Sian studied drama at the University of Hull, which will forever be the City of Culture to her.
Sian has worked for a range of venues including Nottingham Theatre Royal, Nottingham Playhouse, Buxton Opera House and Sheffield Theatres. She also worked for Opera North, turning her into an opera lover.
A key role for Sian was with Phoenix Dance Theatre. Phoenix Dance was founded by three young black men from Leeds in the 1980s, and has stood for almost 40 years as an internationally acclaimed dance company. In working at Phoenix Dance, Sian came to understand that when opportunities are created that are fair and inclusive, amazing things happen. Sian intends to use her leadership to celebrate the spirit of diversity and bring about long-lasting change to end racist practices where they exist within our structures, sector and communities.
The most impactful stage of Sian's career has been working for the Cast theatre in Doncaster. Like Mansfield in many ways, Doncaster has a range of well-loved cultural assets and creative opportunities that surface in spite of significant hardship and challenges in the district.
Sian says, "Cast embody the spirit of their local people, an aspiration I hope to build on here in Mansfield. I'm thrilled to have been part of the team that secured Cast 'Theatre of Sanctuary' status, in recognition of its work with refugees and asylum seekers".
She adds, "Cast prides itself on having a 'Gold Standard' in accessibility, and for the last four years I've been asking customers what they need, listening, and doing something about it. This is something I intend on doing here in Mansfield. It's led to my proudest achievements such as simplifying ticketing, free tickets for carers, free ear defenders and lots of training for the front line team like LGBTQ Awareness".
Further to inclusion and accessibility achievements, Sian had progressed fundraising for the Yorkshire venue. She reflects, saying: "Thanks to the Arts Council, in 2016 the Cast saw a major shift in its fundraising capability. Joining a team of dedicated fundraisers I'm proud to have raised thousands of pounds for the charity. Communities come first for me, and I'll be taking with me the work I've done with engaging Doncaster's African Caribbean communities and the local deaf community. Effective community work is about supporting needs and I've a really good track record in supporting those with dementia and reducing stigma for sensory processing issues."
Changing jobs at a time of national crisis in the Arts sector is daunting for anyone. Sian recalls how before leaving the Cast, whilst its future looked uncertain, she was one of only three staff not furloughed. She is however excited to start this new chapter in her career at Mansfield Palace Theatre.
Sian has many interests outside of work time. She is Chair of the Board for a feminist, body confidence theatre company 'The Roaring Girls'; and is also on the Local Governing Board for Doncaster's University Technical Collage. She also runs a small charity 'Create You Arts' with her twin sister, which supports families who come together through adoption. In addition, they are due to publish a children's book later this year, funded by 'The Mighty Creatives', which tells a modern adoption story.
Always on the go and thriving on being busy with projects and her family, Sian revealed how she returned to work within eight weeks of giving birth to her son, something that she describes as impossible without the support of the team at Cast. Sian actively campaigns to reduce taboos and stigma around breastfeeding and expressing breastmilk in public and the workplace. She intends to prioritise in her work at Mansfield young families and children under 5 years old. Sian states: "I want to create a culture where families feel safe to learn and grow and parents are free to feed their young children, in whatever way they choose, as part of Mansfield's cultural offering."
She said, "My first few weeks have been brilliant. I'm not too fazed by video calls or this new way of working, and I've had some really exciting conversations with a range of staff from across the Theatre, Museum and the wider council."
Looking to the immediate future Sian and the team will be looking into the Theatre and Museum's response to the pandemic. Hundreds of thousands of local people pass through the town's cultural services each year. Sian believes there is a commitment to those people, to enrich their lives with amazing culture on their doorstep. Naturally, this will be in a way that is safe and inclusive.
She states: "I thrive in teams, and I look forward to working with our hugely experienced and knowledgeable colleagues to shape the future of our Cultural Services. I'm really excited to be exploring ways in which our cultural offer can add value to our wider civic agenda, and can already see loads of ways that we can collaborate closely with our partners across the District Council and beyond."
So whilst it's curtain up for Sian, the venue prepares to make further plans and announcements in response to the Covid crisis. Whatever lies ahead for the Palace and Museum, it's sure to be a show stopping moment in the venues rich history and future development.
Press release issued by Palace Theatre
For further information please contact Louise Atkin, Marketing Manager, on latkin@mansfield.gov.uk (link opens in new window).