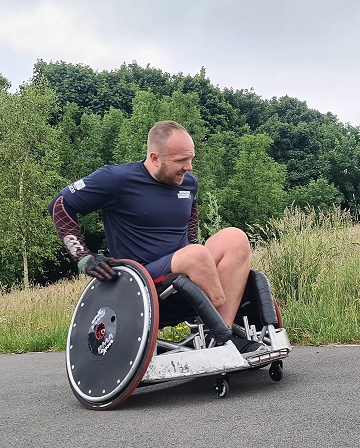 Congratulations to Army veteran Dave Wilkinson, from Mansfield Woodhouse, who completed a 100km sponsored challenge on Sunday.
Dave, who served with the Royal Signals, did 250 laps of the running track at Berry Hill Park in his rugby wheelchair in 11.5 hours. He had already done 100km earlier in June so has completed 200km in total.

Executive Mayor Andy Abrahams and the council's Armed Forces Champion Cllr John Smart were there to cheer Dave on. He crossed the finish line at about 2.50pm having started the challenge at around 3.15am.

The Mayor said: "What a fantastic achievement by Dave. I was delighted to be at Berry Hill Park on Sunday to see him complete his challenge.

"Dave is an inspiration and example that even with a setback in life, it doesn't have to hold you back from achieving great things."
Sunday 28 June, as well as being the last day of Armed Forces Week, marked 100 years since the Royal Corps of Signals was formed.
Dave smashed his £1,000 fundraising target by raising more than £1,550 (about £1,800 including Gift Aid) for the Royal Signals Charity, which supports serving and former Royal Signals soldiers and their families. The charity supported Dave following his lower leg amputation and he wanted to give something back.
It's not too late to make a donation on Dave's fundraising page (opens in new window).
Dave said: "The first 50 laps and the last 50 laps were the toughest and my arms felt like lead afterwards because of the strong winds.
"I am truly humbled by everyone's generosity. It wouldn't have been possible without the support of my family, friends and members of the public who sponsored me.

"Thank you to Mansfield District Council for letting me use the running track and in particular to the Mayor and Cllr Smart for their support on the day and to Parks Development Officer Andy Chambers for helping to make it possible."
Watch our video of Dave completing his challenge on our Facebook page (opens in new window).