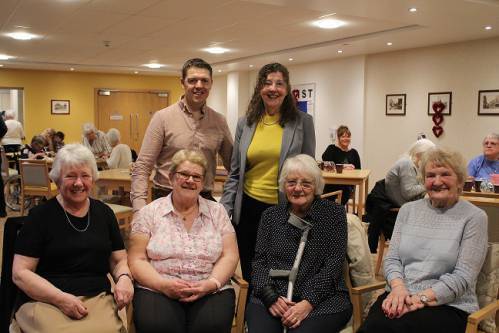 A singing firefighter who performed on prime time television has helped residents to celebrate the first birthday of a Mansfield housing development.

Andy Quinn, who works as a firefighter in Nottinghamshire and Derbyshire, was the Unexpected Star of the Show on Michael McIntyre's Big Show in 2016.
On Monday, Andy performed hits by Elvis, Michael Bublé and songs from the shows for residents of Town View and their families. The event marked a year since the living scheme for over 55s on the site of the former General Hospital, on West Hill Drive, officially opened.
Andy became famous when he was tricked into being the Unexpected Star on the BBC1 show by his wife, Emma, and some friends who were in on the secret. He had just an hour to rehearse Bring Him Home, from the musical Les Misérables, before performing in front of 2,500 people on the West End's biggest stage at Drury Lane Theatre.
Andy's appearance on the Saturday night TV show was watched by more than 6.5 million viewers in the UK and has since been aired in countries including Australia, South Africa and New Zealand. The YouTube video of the show has had over half a million hits and led to fantastic feedback from people from all over the world.
Cllr Marion Bradshaw, Portfolio Holder for Housing at Mansfield District Council, joined residents and their families for the celebration, which was timed to mark Valentine's Day, and paid for the performance.
She said: "It was an absolute pleasure to join the residents of Townview on such a special occasion and a brilliant time was had by all.
"I had been told that Andy was a good singer but didn't realise just how good. His performance covered a variety of music and his vocal range has got to be heard to be believed. Let's hope we can get him back to perform again."
Resident Mrs Pauline Palmer said: "Andy was absolutely marvellous. I hope he comes back again. I loved singing away to the songs, particularly Some Enchanted Evening and Younger than Springtime, from South Pacific."
Mrs Christine Wood said: "He's an excellent singer – the best we've ever had.
"Moving here is the best thing I ever did. I thought I was just moving into an apartment - I didn't expect all these extras. There's any excuse for a party. We have coffee mornings, breakfasts, film screenings and I've made lots of new friends."
Andy said: "I really enjoyed performing at Town View. It was great to see the audience singing along to their favourite songs and it was nice to have a bit of banter with them."
Andy has a keen interest in musical theatre and has spent many years singing and acting in shows across Nottinghamshire and Derbyshire, including at Mansfield Palace Theatre.
Since his television appearance, he has released an album and continues to perform as a concert singer and guest soloist. Find out more at www.andy-quinn.com.
A video can be found on our Facebook page.