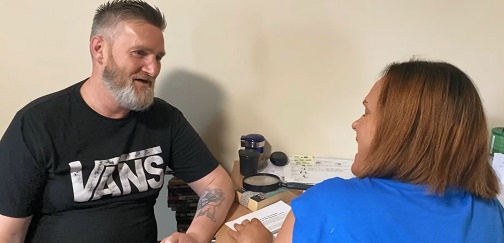 A pioneering scheme that enables rough sleepers in Mansfield to turn their lives around has been awarded more than £1m in funding to keep it running for another three years.
Mansfield First Steps enables rough sleepers to move off the streets and into accommodation combined with a wraparound package of support to help address often complex needs such as mental health issues and substance misuse.
Among those it has supported is Kerry Edwards, who said the scheme had been a "life changer".
Mansfield District Council runs the scheme in partnership with Action Housing, Change Grow Live (CGL), Tuntum Housing, Paragon Asra Housing and Nottingham Community Housing Association.
It was during 2020, as Covid-19 was wreaking havoc across the world, that everything changed for street sleepers.
Initially, after the entire nation was instructed to "stay at home", councils, nationally, were instructed by the Government to move rough sleepers off the streets and into safe, non-communal accommodation. Later, this "everyone in" approach was adapted with the aim of finding more sustainable ways to reduce street sleeping.

Mansfield District Council had already jumped at a funding opportunity in 2019 to set up a scheme that its housing chiefs had been itching to introduce as part of the council's own homelessness reduction strategy to cut the number of rough sleepers permanently.
Executive Mayor Andy Abrahams, a former volunteer at The Beacon, a support project for the homeless in Mansfield, said: "I am so proud of Team Mansfield for becoming a leader in the pioneering First Steps project which will help break the cycle of homelessness for the most vulnerable in our communities."

Mansfield First Steps was modelled on the Housing First scheme pioneered in New York in 1992 and which has since been widely adopted in the USA and become central to national homelessness strategies in Canada, Denmark, Finland and France.

Evidence from other parts of the world, suggests this approach ends homelessness for as many as 90% of the people it sets out to help.

Working with various partners in the third and private sectors, the council has been able to tackle rough sleeping at a grass roots level by first providing accommodation and then attaching it to an ongoing wraparound and bespoke package of support to tackle addiction, mental health conditions and other problems rooted behind reasons for a person's homelessness.

The initial funding of £290,000 from the Department of Levelling Up, Housing and Communities, enabled Mansfield First Steps to buy in support from various specialists. These include five support workers, a CGL drug and alcohol worker, a consultant psychologist, a counsellor and an employment worker.

The idea behind this 'housing first' approach is that it gives former rough sleepers a stable home from which to rebuild their lives with the help of intensive, holistic, person-centred and open-ended support.

No conditions are placed on the project's clients except they should want to have a tenancy and home of their own.

Mansfield is the first area of Nottinghamshire, outside the city, to adopt this approach to homelessness. Since April 2020, it has helped a total of 10 people at risk of sleeping rough move into suitable supported accommodation.

And while rough sleeping and homelessness nationally has seen a recent resurgence by 40% since its lull during the pandemic lockdowns, the First Steps project in Mansfield has helped reduce this uptick to 17%.
In 2021/22, Mansfield First Steps had 74 referrals and of those it accepted 29. The scheme enables 10 people at risk of rough sleeping to live in flats owned by Mansfield District Council, PA Housing and NCHA housing associations, and a number of self-contained Action Housing flats available at Stone Cross Court for homeless people with medium complex needs such as substance use, poor mental health or a record of offending.

Of the 29 accepted on to the scheme in 2021/22, seven were able to move on to other accommodation successfully, four abandoned their placement and five were evicted. Of the 29, more than half were supported in respect of drugs misuse. Smaller numbers were helped with for alcohol misuse, and by the psychologist, counsellor and employment worker.

The extra £1,089,706 in funding from the Government's Rough Sleeping Initiative (RSI) spread over the next three years will now allow the council to build on the success of the scheme which has been life changing for people like Kerry Edwards, aged 42, an addict, on and off since she was 14 who became homeless and was sleeping on the streets. She is currently living at a flat at Stone Cross Court.

"When I first came to Stone Cross, I suffered severely with my mental health, anxiety and addiction," she said. "Straight away I was offered a psychologist, so I grabbed that with both hands.

"For the past year I have been working with the psychologist which has helped my mental health and anxiety immensely. I am now signed off.

"I can't praise the ladies here enough. If you are willing to put the work in, they're willing to help you, left, right and centre. The support I have had has been immense. They've been there on my worst days. They've been there on my good days. It's been a life changer for me.

"I am now a volunteer outreach worker for CGL. I am still at Stone Cross but hopefully going on to a council property soon and then I will be able to come to talk to the other residents here about how Stone Cross can change your life."

Tay Mills had been living in a tent and homeless for six years before being picked up and helped by Mansfield First Steps. He was initially housed at Stone Cross Court in 2021.

"I appreciate what they have done for me because if it wasn't for them I wouldn't be here now. If you work with them and do what they say, they do help you. You don't think they are at the time but when you look back and reflect they do help you quite a lot.

"It's given me a bit of pride back living here because having your own place, you can do what you want, have it how you want. I can have my son here. I can have people round. I can keep it tidy. So having my own place has benefited me a lot."

Another former rough sleeper who has been helped by Mansfield First Steps is Steven Hayes who was offered initially offered shared accommodation in 2020 after living on the streets for two years.

He then moved to Stone Cross Court and started receiving support from CGL for substance misuse and anxiety, and guidance in life skills from support workers with Mansfield First Steps.

"I normally have one session a week but if I have any issues or problems then I can contact my support worker and she makes time to come and see me. She helps me with my shopping, she takes me to my appointments with the doctors about my anxiety and helped me claim my benefits and is just generally there for me if I need anything."

The next stages for Mansfield First Steps include adding five properties to increase the units of accommodation in the scheme to 15, to help take even more rough sleepers off the streets.

It also wants to take on three more staff members, establish IT kiosks to help clients find work and apply for benefits, and offer cookery and life skills sessions and wellbeing activities such as art and music therapy, yoga, and mindfulness.

An independent assessment of Mansfield First Steps in 2021 by Professor Peter Murphy, of Nottingham Business School, and Dr Claire De Motte, of the School of Social Sciences, both at Nottingham Trent University, found the scheme had been well received and effective so far, and they made some recommendations to improve its delivery in the future.

The First Steps project is run in addition to the council's other homelessness prevention work to meet its obligations under the Homelessness Reduction Act for which it was also awarded £318,273 in ring-fenced funding earlier this year from the Department for Levelling Up, Housing and Communities.

Cllr Marion Bradshaw, Portfolio Holder for Safer Communities, Housing and Wellbeing, said: "Both these streams of funding are very welcome and much needed as Mansfield, as with towns across the UK, continues to experience ongoing issues relating to homelessness and the risk of homelessness.

"The council, in 2019, adopted a five-year strategy that aims to reduce homelessness and I am pleased that our Housing teams are leading innovative approaches to tackling what are often very deep rooted and complicated problems.

"The new RSI funding will help us to sustain tenancies long term for clients with the complex health and wellbeing issues.

"Dealing effectively with the whole social problem surrounding homelessness is expensive but when you look at the cost of dealing with the consequences of allowing rough sleeping to continue - often resulting in frequent contact with health services and the criminal justice system, too, then that is even more expensive.

"So in pure monetary terms this approach has to make sense. However, in human terms, helping often very poorly people off the streets can be life changing and sometimes life saving, and you really cannot put a price on that.

"We are very proud, as an authority, to be blazing a trail in how best to help some of the most vulnerable people in our community and I would like to sincerely thank all of our partners who have helped to make this project such a success."