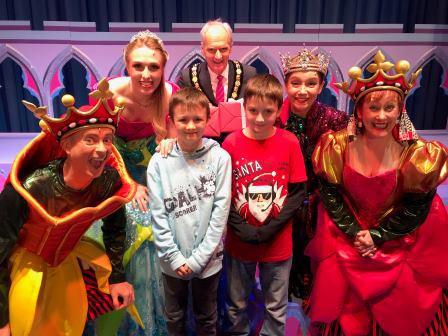 The recycling Good Deeds letter to Father Christmas competition saw an impressive and varied range of entries from Nottinghamshire's littlest recyclers.
The letters were delivered to the recycling elves courtesy of Veolia (Nottinghamshire County Council's waste contractors).
The winning letters were a set of creative poems from 9 year old twins Charlie and Freddie Anderson in Retford which call upon us all to carefully think about our festive waste.
The original letters saw them win a trip as a family to the Nottingham Playhouse pantomime Sleeping Beauty on the 18th of December. Afterwards they also got to meet the stars of the show and the Chairman of the County Council who presented them with their gift from the recycling elves.
In their winning entries the boys clearly demonstrated that they were Nottinghamshire recycling champions with Charlie creatively giving festive examples of what can be put into the recycling bins in Nottinghamshire 'Just recycle every tin, and your cans go in the bin'. While Freddie highlighted some of the common recycling mistakes 'No plastic bags, hear Santa cheer, or pouches from his 9 reindeer'. The pair also gave examples of how they not only recycle, but help reduce waste by reusing and repurposing, having turned old t-shirts into bags at their school.
Lea Hawkes, General Manager for Veolia Nottinghamshire said: "We are once again incredibly impressed with the level of entry into this festive competition. This year saw a new style of entrant with many including images of the ways they were reducing, reusing and repurposing their waste. Thank you to everyone who entered, all of whom have received their 'nice list' certificate, and congratulations again to Charlie and Freddie."
Entries into the competition came from children across Nottinghamshire, varying in age from 5 to 11 years old. The competition was shortlisted by judges at Nottinghamshire County Council and Veolia and the winners were chosen by Nottinghamshire County Council Chairman, Councillor Kevin Rostance. All the winning poems can be read in full on the Letter to Father Christmas section of the Veolia website (opens in new window).
Nottinghamshire County Council Chairman, Councillor Kevin Rostance. said: "We were delighted to receive so many entries, the judging process was very tough, and we are really pleased with the winning entries. It's also timely to think about how we can all recycle over the Christmas period – whether it's to recycle Christmas cards, reuse Christmas wrapping paper or remembering that once you have finished decorating your home with things like spray snow, the empty cans can go in your recycling bin.
Stephanie Sirr, Chief Executive at Nottingham Playhouse said: "We have been proud to support the recycling 'Good Deed Christmas Letters' competition again this year, and encourage all of Nottinghamshire's littlest recyclers to think about how they can reduce, reuse and recycle, at home and at school this Christmas".
The festive fun doesn't end here, keep an eye out on twitter for the hashtag #RecycleForNotts.
There are lots more festive recycling surprises to come, including a special fundraiser for the Chairman's charity. which encourages everyone to recycle old electrical items at one of the 12 Recycling Centre sites across the County in return for a donation to the Motor Neurone Association on the tonnage collected.
On average households produce 30% more waste over the festive period. To help Nottinghamshire residents manage this extra waste, download the latest recycling guide in a range of languages on the Recycling for Nottinghamshire section of the Veolia website (opens in new window).
To find out more about Veolia call 0203 567 4370 or visit the Veolia website (opens in new window) for tips and support.
Published on behalf of Veolia