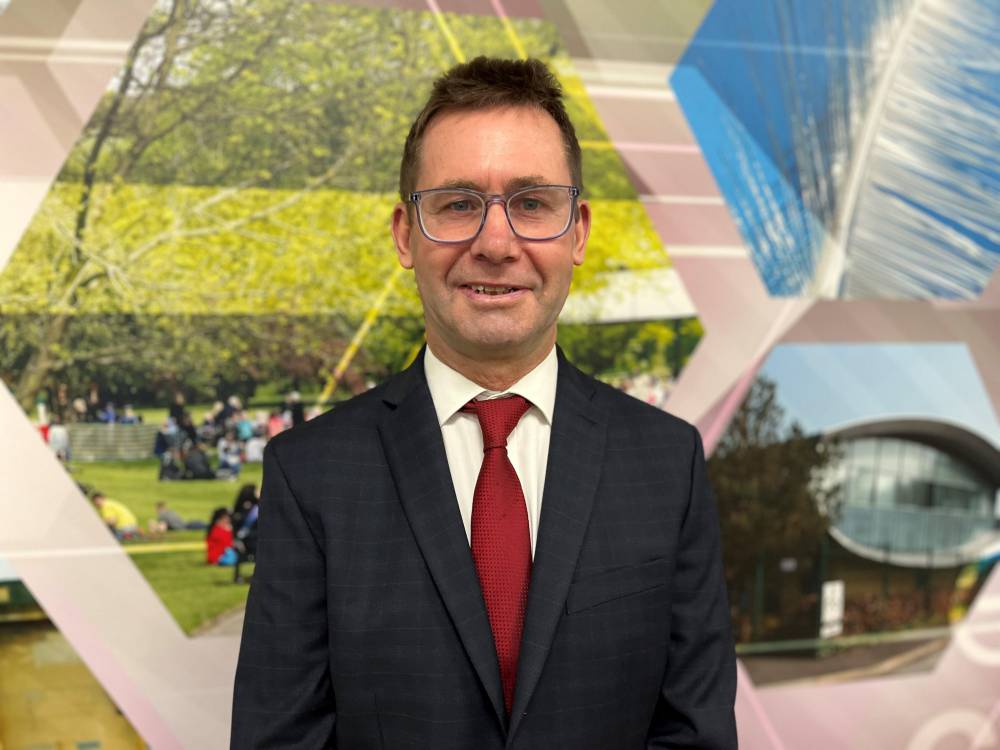 About the Mayor
On 4 May 2023 Andy Abrahams was elected as Mansfield's Executive Mayor.
He is the third Executive Mayor of Mansfield and is in his second term following Tony Egginton's 12-year term and Kate Allsop's four-year term.
Andy grew up on Mansfield's Ladybrook Estate with his dad, who was a miner, and his mum, who was a cleaner.
Andy has enjoyed a varied career in both the construction industry and education. He worked as a chartered civil engineer in local government and industry for 25 years where he was involved in major construction projects including the Channel Tunnel rail link, Manchester Airport runway and the New Imperial War Museum.
His determination to improve opportunities for young people from disadvantaged backgrounds led to him changing career and going back to university to retrain as a maths teacher. He has taught for ten years in socially deprived areas with historically low attainment to try to make a positive difference, and for the past five years has worked for REAL Education, an alternative education provider. Andy passionately believes that education should enable every child to reach their potential.
He has travelled extensively throughout the world, including working with street children in Ecuador and volunteering on an environmental project in Tanzania.
Andy is married to Lynne, who is a retired midwife, and the couple have four grown up children.
He is a keen sportsman who plays many sports including football, racket sports and golf. He has run marathons, parachuted for charity and has obtained a PADI scuba diving qualification.
Mayor's manifesto
In his election manifesto the Mayor pledged to:
Care and protect our communities
Regenerate our town and district
Invest in skills and the local economy
Sign up to the Executive Mayor's e-news
The Executive Mayor would like to keep in touch with residents more frequently with public information and service news. The quickest, most convenient and cost saving way of doing this is by email.
To receive information from your Executive Mayor about latest news and events please complete our sign-up form (opens in new window).
Invite the Mayor to an event
The Executive Mayor is often invited by businesses, charities and individuals to attend functions to promote local events. The Executive Mayor welcomes the opportunity to attend these events.
All invitations should be directed to the Mayor's office, preferably in writing, giving details of the event.
If the Executive Mayor is unable to attend your event he will either ask the Deputy Mayor, another Executive member or the Chair of Council to attend in his place.