We have been working hard to ensure that the museum is accessible for everyone. We want the widest number of people to enjoy the building, exhibitions and collections and hope that the following information will help you to plan your visit to the museum. If you require any further information, please contact us:
Email: mansfieldmuseum@mansfield.gov.uk
Phone: 01623 463088
SENSORY RESOURCES
We know that many visitors with autism and other sensory conditions find it beneficial to prepare for their visit and have prior insight into the sensory input involved in a visit to Mansfield Museum, that's why we've created a social story and welcome video. We also have four sensory bags available for visitors to borrow during their visit. Each one has a different animal puppet in them along with a sensory map of the museum, and also a pair of adjustable ear defenders and a small selection of sensory toys. It is advisable to book the sensory bags if you are planning to visit during a school holiday or one of our busier times. If you would like to book one in preparation for your visit, please contact us:
Email: mansfieldmuseum@mansfield.gov.uk
Phone: 01623 463088
Please note, quieter times and sensory information will vary. If you have any queries or concerns please get in touch with our team. Contact information can be found near the top of this page.
The Museum can sometimes be crowded and noisy. The quietest times to visit the Museum are when the galleries first open and later in the afternoon. The middle of the day is usually the busiest time in the Museum galleries.
Please note that some weekends and school holidays have additional activities that can be busy and noisy – check our events calendar when planning your visit.
WHEELCHAIR USERS OR VISITORS WITH MOBILITY DIFFICULTIES
There are dedicated parking spaces for disabled visitors just around the corner from our main entrance at Toothill Road car park and Handley Arcade car park, both on Toothill Road, approximately 100-150 metres from the museum entrance. General car parking information can be found on the Mansfield District Council website. There are 5 spaces for Blue Badge holders on the side of the road as well as 5 more spaces in the car parks themselves.
Access at the main entrance to the museum is completely level.
BUILDING ACCESS
The main path from the car parks to the museum is even, with areas of paving stones and tarmac. The car parks are well lit at night. At the main entrance to the museum there is an automatic door which is 1780mm (70 inches) wide. The main entrance is situated on the ground floor with step free access throughout the galleries.
The floor surface is tiled, with a gradual, even slope down to the reception area; it is evenly and well lit with overhead lights and natural daylight. Seating is available 40 metres from the entrance. The main desk is suitable for wheelchair users, entry is free.
VISITORS WITH HEARING OR VISUAL DIFFICULTIES
All of our interpretation boards are mostly large text and have photographs or illustrations where applicable. All are a maximum top height of 1855mm (73 inches). Where there are articles held in glass cabinets, some of these may not be visible if the eye line is below 115cm.
Some exhibitions may include background music and sounds.
Lighting in the galleries is generally bright and evenly lit with ceiling spotlights. Some areas are more dimly lit to aid preservation of the exhibits but lighting levels can be raised upon request.
TOILETS AND FACILITIES
All of our toilets are located on the ground floor near to the main entrance area. Along with our separate male and female toilets, we also have one unisex, accessible toilet with an easy open door 970mm (38.5 inches) wide.
The accessible toilet includes one vertical, and one horizontal rail on either side of the toilet and next to the sink. There are lever taps on the sink and has 970mm (38.5 inches) transfer space to the left of the toilet when facing. There is colour contrast with critical surfaces; tiles are blue and toilet and washbasins are white. The accessible toilet also has an emergency pull cord.
Baby changing facilities are located within our accessible toilet.
The toilets are well lit with automatic lighting and have tiled flooring.
ASSISTANCE DOGS
Mansfield Museum is assistance dog friendly. Please ask a member of staff if you would like some water for your dog.
ADDITIONAL INFORMATION
We have a set of evacuation procedures - should you require it someone will assist you with evacuation from the building.
Our website accessibility policy is published in the information section of our main menu at the top right of this page.
If there is any way that we can support your visit, please don't hesitate to ask any member of our team.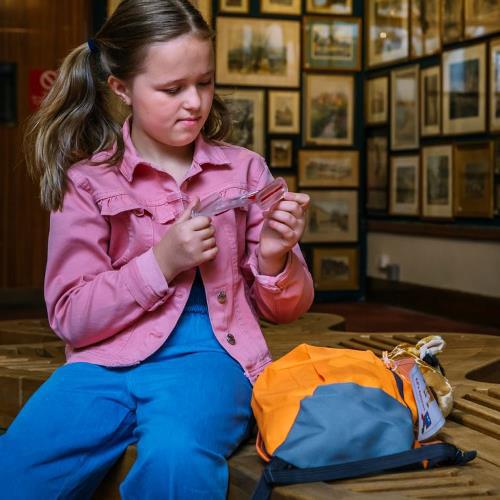 We have four sensory bags available for visitors to borrow during their visit.