October is Black History Month: Celebrate culture at Mansfield Museum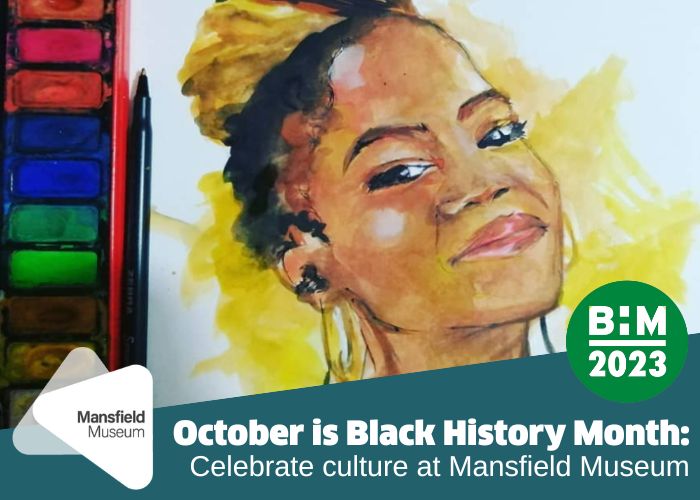 October is Black History Month in the UK; a time to celebrate the contribution black people have made over the centuries in shaping the dynamic and diverse country we have today.
Black History Month is about celebrating the contribution black people have made to freedoms, our culture and our society – from books, to music, to art and everything in between.
We are immensely proud of how successful our Windrush: It Runs Through Us exhibition has been here at Mansfield Museum this year. If you've not seen it yet, then pop in before the end of November to learn about the contribution made by the local Windrush generation who arrived on HMS Windrush from Trinidad 75 years ago, and their descendants ever since.
Who could forget the colourful celebrations throughout the town centre in June when we brought back a Carnival to Mansfield - complete with parade, stage acts, street food and craft stalls all linked to black history?
Thank to Arts Council funding, we are able to offer some completely free events to celebrate Black History Month here at Mansfield Museum. So if you would like to get involved in our poetry, art, song or dance events, read on!
Tuesday 3 October 2023
An Evening of Windrush Music and Poetry with Carol Leeming and the Guinep Tree
6.30pm to 7.15pm and 7.30pm to 8.15pm
Join us for an evening of Jamaican and Caribbean 'cultural edutainment' as Carol Leeming MBE FRSA and the Guinep Tree present an evening of Windrush themed poetry, music and song.
Hear how Carol – born in Leicester of Jamaican descent – associates guinep trees with happy childhood memories for herself and the wider Caribbean regions.
Hear traditional Jamaican and Caribbean folk songs, original and traditional poetry readings and get involved with an interactive talk on social history and culture.
Free teas and coffees will be provided for attendees to accompany the performances.
Book HERE.
Wednesday 11 October 2023
MOBO Dance Session
6.30pm to 7.30pm
A themed fitness class run by Zumba with Charm, with movement and rhythms paying homage to black music and dance.
Music includes reggae from Jamaica, soca from Trinidad and Tobago, calypso from the Caribbean, afro-beats from various regions of Africa, afro-salsa which originated from Puerto Rico, not Spain, and more.
Book HERE.
Stuart Richardson, Portfolio Holder for Regeneration and Growth says:
"This is another tremendous example of the work undertaken by the Cultural Services team at Mansfield District Council, to bring events to the theatre and museum which celebrate the diversity of our past, our present and our future here in the district."
All events are free but you must book a ticket online at mansfieldpalace.co.uk or via Box Office on 01623 463133. Capacity is limited so early booking is advised to avoid disappointment.
We can't wait to welcome you soon!
#letscreate