What's on at Mansfield Museum this May half term?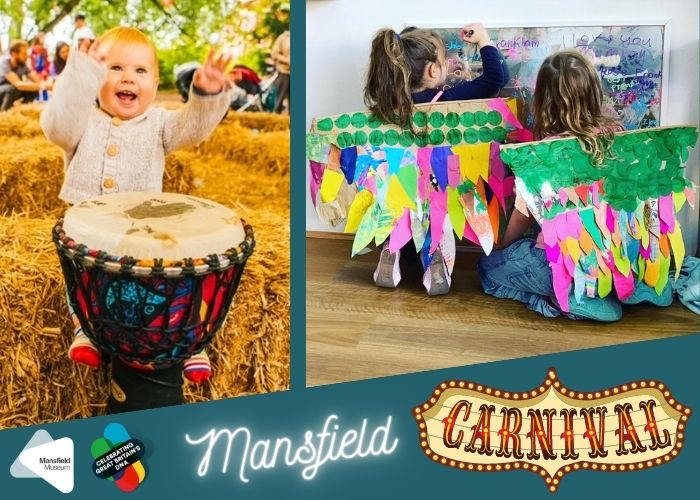 In case you didn't realise, it's not long until another school holiday! But don't worry, we've got you covered at Mansfield Museum with lots of fun and free activities for the whole family...
Come along and join us at Mansfield Museum this May half term as we celebrate the build up to Mansfield Carnival on Saturday 17 June.
On Tuesday 20 May, Beat Feet Drumming join us for free workshops between 10am to 11am (for 0 to 7 years) and 11am to 12pm (for 7 years and above). Their fun and engaging rhythm workshops will explore rhythms from around the world using hand drums, showing you just how great it feels to make music with others.
You'll find us in Mansfield Market Place on Wednesday 31 May from 10am to 1pm (weather permitting) for free have-a-go Zumba sessions from Global Dance with Charm. Have fun and travel around the world through movement and music. With rhythms like Bhangra from the Punjab, Soca from the Caribbean, Samba from Brazil, Cumbia from Columbia and beats from different regions of Africa – come along and have a go. There will also be the opportunity to make your own Carnival flags at both the market and museum between 10am and 12pm on this day.
On Thursday 1 June you can design and make your own Carnival headdress in the museum Arcade, and on Friday 2 June we will help you to make your own Carnival Wings – both activities take place from 10am to 12pm.
Have your treasured possessions valued by Bamfords Auctioneers at Mansfield Museum between 1pm to 3pm on Thursday 1 June. Bring along your items and find out more about them, including what they are worth!
Join us at Mansfield Museum on Friday 2 June and every other fortnight from 12.30pm to 2.30pm for our revived Feel Good Friday sessions. These free events will help residents to improve their fitness and nutritional awareness to benefit the whole family. Try new activities run by qualified health professionals from More Leisure Community Trust, meet new people and get advice on getting active.
To celebrate National Fish and Chip day (on Fryday 2 June), come along and enjoy free seaside themed craft activities and trails at our Makers Market on Saturday 3 June. We will have our usual mix of stalls displaying and selling locally made gifts and homewares, plus refreshments will be available from Poffles pop up cafe.
We ask you to support local talent by visiting Jonathan Annable's new artwork exhibition in the galleries, including work by our Museum Curator, Jodie!
Find out more about future events and opportunities at Mansfield Museum including Mansfield Carnival at www.mansfield.gov.uk/museum/news or follow us on social media @mansfieldmuseum.
The whole family is always welcome at Mansfield Museum and no booking is required – we can't wait to see you soon.