Join us for the first ever Mansfield Carnival!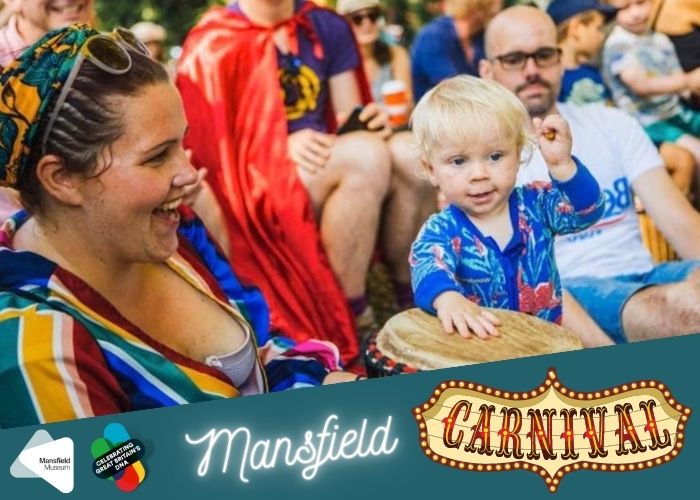 For the first time ever, we're hosting Mansfield Carnival, a full day of FREE family fun including live music, activities, crafts, food, face-painting, walkabout entertainers and a parade.
The inaugural event – celebrating Caribbean music, culture and our local links with the Windrush generation - will take place on Saturday 17 June in and around Mansfield Market Place between 10am to 3pm and there are loads of ways to get involved in this exciting day for our district.
It's not too late to strut your stuff in the Carnival parade. We are running free family dance classes with a view to participants being part of the day's parade. Join us at Mansfield Palace Theatre on Tuesdays from 6.30pm to 8.30pm or Ladybrook Community Centre on Thursdays from 7pm to 8.15pm. For more information or to sign up, contact Maria on mproductiontime2show@gmail.com or 07367 304154.
Maria tells us: "If you enjoy dancing, our Carnival dance classes are for you! You will learn some cool moves, loosen up your body and workout to the latest soca, RnB, Afrobeats remix and many more music types with positive vibes. You will develop your fitness, raise your performance ability and further your knowledge across a variety of dance genres, all helping you to gain confidence, gain a solid foundation across a range of commercial styles from urban street to commercial dance. Fun high energy choreography routines will be taught step by step until you're ready for the road and time2show your amazing colourful carnival costumes".
Inspiration for the Carnival costumes have been taken from the iconic feather shaped sculpture in the town centre, as Museum Development Officer Kirsty Sanders explains:
"A-spire for Mansfield is a steel structure located on West Gate in Mansfield town centre. It was designed and erected in 2007 as homage to the area's coal miners and canaries taken underground by them. It seems fitting that the Carnival Parade route will pass 'the feather' as it has formed part of the inspiration behind the costumes and dances for the day. Both will gently sway, reflect the light and mimic the movement of the surrounding trees".
Entertainment will be provided on a specially erected stage in the market place throughout the day, with confirmed acts including Mansfield Rock Choir, Punjabi Roots, Phantasy steel band and some exiting emerging artists. You will also have the chance to take part in drumming with Beat Feet and belly dancing with Janet Rose.
Why not come along and join us in putting the event on and be a marshal for the day? Whether you're a student looking for some work experience or wanting to develop your confidence, we are looking for volunteers to act as marshals on the day. Line the route, act as an information point for visitors and soak up the carnival atmosphere. You'll be given a free t-shirt to wear on the day and keep to commemorate being part of it, as well as a whistle and refreshments.
We are looking for local groups such as Brownies, Scouts, football clubs and cheerleaders to line the parade route and make some noise as we pass on the day. This could be a great opportunity to get your team colours seen by passers-by and you might even make it onto photos and videos from the day!
Limited stalls are available on our Caribbean themed market on the day. Do you make vibrant, eye-catching artworks or clothes? Contact us to book your space and share your creations with the day's visitors.
Mansfield Carnival has been made possible thanks to funding from Arts Council England's National Portfolio Organisation (NPO) programme. Please be aware that on the day of the event, road closures will be in place and town will be busier than usual.
To find out more and sign up to be part of something special, please contact Kirsty on 01623 463088 or ksanders@mansfield.gov.uk. We can't wait to hear from you!