Fall in love with Mansfield Museum this February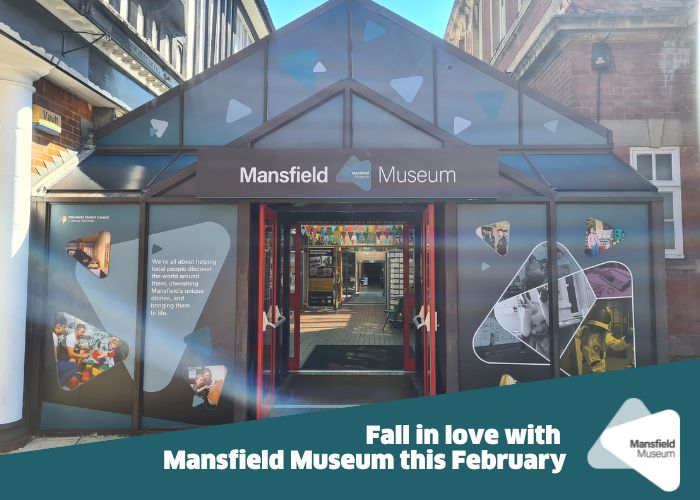 Your local museum on Leeming Street has something for everyone in the coming months, starting with exhibitions and activities the whole family will love in February.
Come along and see the Photographic Alliance of Great Britain (PAGB) exhibition which runs until Saturday 4 February. See images taken by the 'best of the best' throughout the country, including an East Midlands section. This is a must for local photographers and media students – we'll see you there!
Join us for our Mansfield Stargazers project with Sherwood Observatory up until 20 February as we ask you to look up at the 'Dark Skies' and record what you see. A great idea for some free family fun this February half term!
To link in with the Festival of Science and Curiosity, many of our events will be space and science themed, starting with our under 5s Stay and Play session on Friday 10 February from 12.30pm to 2pm and includes investigations for young children to get involved in.
Come along this February half term and take part in our exciting HOME: Zero interactive exhibition. Learn about climate change and make a pledge to help. Places are FREE but must be booked in advance:
https://www.lakesidearts.org.uk/children-and-families/event/5753/home-zero.html?Action=Cookie
You'll love our storytelling sessions at Mansfield Museum this Valentines Day (Tuesday 14 February.) Join local author Adrian Beeden for readings of his children's book, Alfred in Space, and take part in drawing exercises linked to everyone's favourite tortoise. Sessions run at 10.30am, 11.15am and 12pm.
Join us for a Robotics Workshop on Wednesday 15 February (10am to 12pm or 1pm to 3pm. Places are FREE but must be booked in advance by emailing mansfieldmuseum@mansfield.gov.uk.
Trading Standards will also be joining us on 15 February to demonstrate how they use technology in their everyday work.
Thursday 16 February is everyone's favourite day – Lego day! Come along to the museum and build a space rocket or an astronaut.
We finish the first week of half term (Friday 17 February) wih a visit from Sherwood Observatory – meet the team and take part in star and space themed activities and experiments.
As a special treat this February half term, we will have Amy from PofFles serving tea,coffee and sweet treats in our pop up café.
New for 2023 is our Makers Market on the first Saturday of each month. Starting on Saturday 4 February, join us between 10am to 3pm to purchase locally make gifts and crafts. Entry is free and we are offering free stalls for the first six months, so drop us a line if you'd like to display and sell your creations:
mansfieldmuseum@mansfield.gov.uk
We have a storytelling themed Stay and Play session for under 5s on Friday 24 February between 12.30pm to 2pm. Crafts on the day include making a puppet of a character from a well-known fairytale. There is a suggested donation of £1.50 for the craft activities. Author Adrian Beedon will also be reading his stories at 12.30pm, 1pm and 1.30pm on this day with copies of his Alfred the tortoise books available to purchase.
Visit us between Saturday 25 February to Saturday 25 March to see local photographer Carrie Austin's mental health themed photography exhibition. Carrie will be working with local people and businesses to run mental health and wellbeing talks and support – keep an eye on our webite and social media feeds for further news including a visit and performance from special guests, Vicky McClure's Dementia Choir.
You may think you aren't associated with the Windrush generation, but what about that aunt who told you she arrived by boat from Trinidad in the 1950s, or your neighbour who used to make you the most amazing Caribbean food? We are inviting everyone in Nottinghamshire to discover and share their Windrush story with us as we celebrate the Windrush generation in our 'It Runs Through Us' exhibition from Tuesday 28 February (until the end of November).