£1.7m of funding granted for cultural projects in Mansfield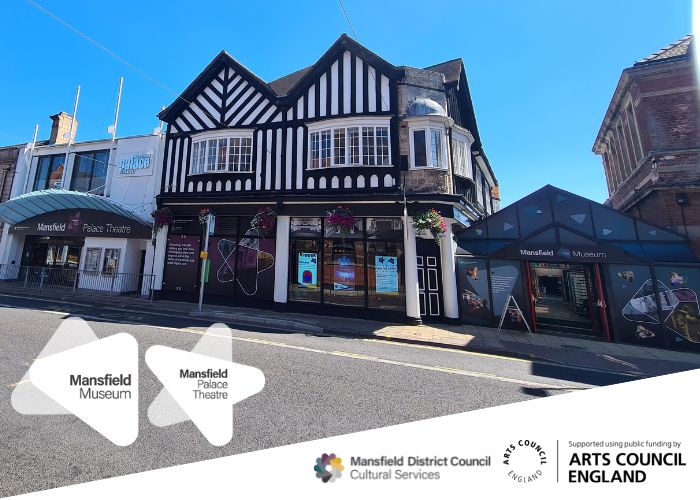 Mansfield District Council has been awarded over £1.7m from Arts Council England to deliver creative and cultural activity in the community.
The National Portfolio grant will be delivered over three years in payments of £579,304 and used to provide various projects at Mansfield Museum and Palace Theatre. The offer is conditional subject to formal acceptance by the authority.

These funds will include new creative partnerships, collaborations with community groups and welcoming new artists to take residency in the town.

To be eligible for the funds, the council had to demonstrate it could contribute strongly to the Arts Council England Let's Create project. The 10-year vision allows everyone to experience high-quality cultural experiences in England.
Councillor Stuart Richardson, Portfolio Holder for Regeneration and Growth said he was thrilled to see such a massive amount of investment in the arts coming into Mansfield.
He said: "Our cultural services team work to create healthier, proud communities and enrich the creative, cultural and heritage opportunities for people in the district.
"We have a track record in delivering regular creative opportunities in Mansfield to build aspiration and skills and enrich the cultural lives of local people. With this significant investment, we will be employing more staff to run engaging new activities and also work with our harder-to-reach communities, ensuring they have access to the arts.
"These funds will focus on addressing the legacy of British colonialism with communities, recognising colonial trophies and imperial attitudes in Mansfield Museum."
The funds will see live performances moving outside the museum and theatre walls into the community and the district's priority neighbourhoods. There will also be a series of temporary exhibitions in areas with the least access to publicly funded culture.
There are also plans to work with the authority's parks team around species conservation and biodiversity, with a commitment to digitalising the collection over several years.
Sian Booth, Cultural Services Manager who submitted the bid for the funds, added: "I am so pleased that we have been successful in this bid for £1.7m. It will truly guide and shape the direction of the theatre and museum for years to come.
"As well as all the new and exciting events programme, we are also planning to invest in the next generation of museum curators through the creation of the Young Curators programme. This will be a wide-ranging and, above all, fun programme for young people, allowing them to engage and learn about the arts sector.
"We also plan to create pop-up exhibitions around the district to share our collections more widely and enhance our place as well as a new cohort of collection volunteers.
"This collection will also represent diverse voices and stories with an aspiration to develop Mansfield's first Eastern European heritage collection, Black History archive and Disability Heritage collection. We are immensely grateful to Arts Council England and cannot wait to get started."
Arts Council England Chair, Sir Nicholas Serota, said: "As well as continuing our commitment to our many established and renowned cultural organisations, I am deeply proud of the support we will be giving to those new organisations which will help ignite creativity across the country.
"We are facing economic pressures at present but this funding is about an investment in our future. This portfolio will support the next generation of visionary inventors, makers, performers and artists. In particular, the growth of our funding for organisations that support and develop work for children represents a profoundly important long-term investment in our country's talent."
In total, 990 organisations will receive a share of £446 million (each year) from Arts Council England ensuring that more people in more places can find fantastic, fulfilling art and culture on their doorsteps.
Arts Council England Chief Executive, Darren Henley, added: "Together, each of the 990 organisations that have been offered funding today will contribute to a portfolio that is rich, varied and truly national. This is our widest ever spread of investment across the country, ensuring that many more people will have access to a wider choice of exceptional art, culture and creative opportunities on their doorsteps.

"We are in tough times but we must remember creativity brings with it extraordinary dividends, boosting our country's economic growth, creating jobs, bringing communities closer together, and making us happier as individuals. Everyone deserves to enjoy the benefits it brings, and with this investment, we believe we've taken a decisive step towards making that vision a reality."