Newly uncovered black history to form part of exhibition in Mansfield Museum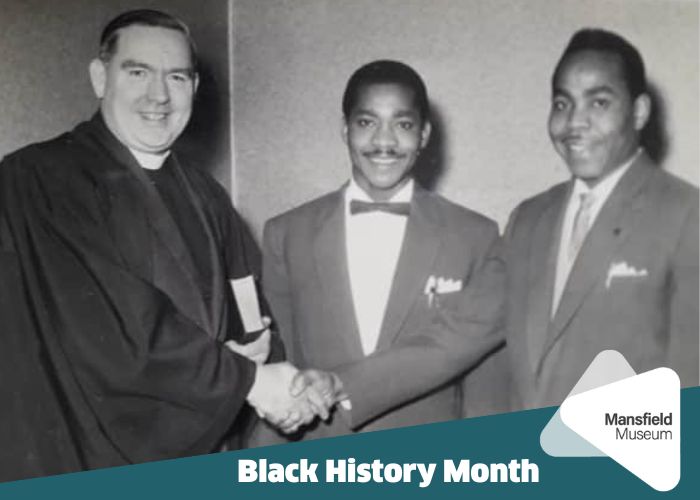 October is Black History Month. During this time, Mansfield District Council's museum curators and researchers have been busy behind the scenes researching Caribbean culture / history in the district.
The authority's Cultural Services team have begun work on its ambitious project to document and collect oral histories from local people of the Windrush generation and their descendants. These pieces of history will then form part of a temporary exhibition at the Museum, which will welcome residents to learn more about Mansfield's black history, and the contribution made by the Windrush generation.
The Museum has unearthed details of the story of Samuel Case. He was the first ever black man elected as a Deacon by a 120-strong congregation at Mansfield's Baptist Church, the highest honour the church can bestow on a person.
Samuel Case left his family in Jamaica in his mid-twenties and was among the first wave of Black and Asian people in the 1950s and 1960s to come and seek work in the UK. He worked as a coal miner at Welbeck Colliery in Meden Vale and lived on Western Avenue in Mansfield.
His son, Carl Case, lives in Sheffield and is now working with the museum to create a short video to be shown in the exhibition documenting his father's life.
The Department for Levelling Up, Housing and Communities (DLUHC) awarded the council a grant of £17,949 in May to support the education of the Windrush generation.
Stuart Richardson, Portfolio Holder for Regeneration and Growth at the authority, said: "The team have been so busy behind the scenes to make black history a part of what we do throughout the year, not just for a month.
"This project aims to bring together people of all cultures, faiths and races to celebrate one of the world's most influential cultures and an unforgettable contribution by a generation. This shared history and heritage of Great Britain will create opportunities for pride amongst all communities.
"It will also highlight the importance of migration and inclusion, reflecting on this story's significance through today's events.
"This ambitious project and exhibition will raise awareness and give thanks to the community who helped rebuild Britain after the war."
The 'It Runs Through Us' temporary exhibition opens in Mansfield Museum on 28 February 2023 and will be on display until the middle of November. The display will shine a light on local Windrush elders such as Samuel Case but also collate and give a profile to existing research by Black History Ambassadors.
As well as Samuel Case's story, the museum team have been delving into the background of the Laetitia Hollins' portrait already on display in its collection, by an unknown artist.

Laetitia was the wife of William Hollins and their family ran the cotton mill at Pleasley, producing Viyella, the first branded fabric from 1890. In it, she is depicted wearing a black Victorian dress, interpreted as mourning the death of her husband, William.
Sian Booth, Cultural Services Manager, added: "We would like to know more about her story. Her picture is the largest portrait we have in our collection, and our gallery assistant Tony is convinced there is a hidden second figure which has been painted over.
"Having been inspired by Yinka Shonibare's art work "Mayflower, All flowers" exhibited locally at the Harley gallery, Worksop, we have exchanged panels of Laetitia's black mourning dress for colourful Ankara wax prints. This new version of Laetitia's portrait will be displayed alongside the original, perhaps promoting conversations around gender, race and colour.
"By suggesting new interpretations and discussions we hope to ensure our collection can be interpreted by all cultural heritages and lived experiences.
"There is currently no archive of black-led oral histories in Mansfield, and we risk losing that valuable heritage and history to time."
It is hoped the project will bring together local campaigners, people affected by the Windrush Scandal, race equality activists and social historians to co-curate the exhibition and surrounding events.
The council also asks for the public's help to bring the exhibition to life. If you have Caribbean historical items, please get in touch; this could be anything from suitcases and passports, to letters or any clothing, particularly from the 1960s and 1970s.
You can contact the cultural services team regarding items for the exhibition by contacting Kirsty at mansfieldmuseum@mansfield.gov.uk