Get your culture fix this November at Mansfield Palace Theatre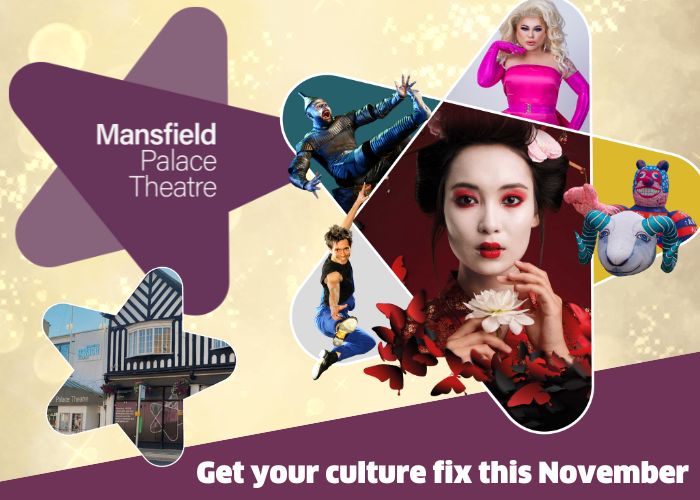 As we head into the last few weeks before the theatre turns into panto-land, don't miss your chance to see children's tales, music tributes and local talent all brought to life on our stage,
See a magical retelling of the classic Tin Man story by Joss Arnott Dance on Thursday 2 November, told through the rusty eyes of the Tin Man on an epic journey to find happiness. Perfect for children aged 7+ and their families.
Direct from London's West End, join us for a very special night as we celebrate the late, great George Michael with FastLove on Friday 3 November. This show has it all; the power, emotion and star quality in a stunning production with full video and light show. Playing all the hits from Wham! right through a glittering career, including Wake Me Up, Too Funky, Father Figure, Freedom, Faith, Knew You Were Waiting, Careless Whisper and many more.
The Comedy Store on Saturday 4 November features a hilarious line up guaranteed to have your sides aching from laughter. Amicable as he is quick witted, Matt Reed has supported Jason Manford, Sean Lock and John Bishop on their sell-out tours.
Michael May's unique take on the world is a hit with audiences everywhere and his writing prowess continues to grow as his second sitcom script has piqued interest with more than one comedy commissioner. Paul Thorne is a topical comedian, whose finely crafted material and quirky songs have made him one of the UK's most sought-after stand-up talents.
On Sunday 5 and Monday 6 November, well-known and loved children's book Peace at Last, by Jill Murphy, jumps from page to stage in Mansfield Museum with this sold out musical performance for little ones.
Support local talent as Masque Productions present Cinderella from Tuesday 7 to Saturday 11 November. Their adaptation of the enchanting fairytale features some of Rodgers and Hammerstein's most beloved songs, including In My Own Little Corner, Impossible/It's Possible and Ten Minutes Ago. From pumpkins into carriages to tattered rags into a beautiful gown, this show will delight and enchant young and old alike. After all, you're never too young for a little magic and never too old to believe!
Mansfield New Youth Theatre hit the stage with an epic fairytale about wishes, family and the choices we make with their version of The Brothers Grimm's Into the Woods on Monday 13 and Tuesday 14 November. Be careful what you wish for" seems to be the ongoing theme in this musical, which follows The Baker and his wife who wish to have a child, Cinderella who wishes to go the King's Festival, and Jack who wishes his cow would give some milk. The community must come together to save each other and their kingdom, but sacrifices must be made.
Our Exhibition on Screen season continues with Hopper: An American Love Story on Friday 10 November. Hopper's work is the most recognisable art in America – popular, praised, and mysterious. Countless painters, photographers, filmmakers and musicians have been influenced by his art – but who was he, and how did a struggling illustrator create such a bounty of notable work? This new film takes a deep look into Hopper's art, his life, and his relationships. From his early career as an illustrator; his wife giving up her own promising art career to be his manager; his critical and commercial acclaim; and in his own words – this film explores the enigmatic personality behind the brush…
Put on your blue suede shoes and come to celebrate A Vision of Elvis on Wednesday 15 November. This breathtaking recreation of a live Elvis Presley concert takes you on an epic audio-visual journey through time like you've never seen before. Including hits Stuck on You, It's Now or Never, Return to Sender, GI Blues, Suspicious Minds, The Wonder of You, American Trilogy and many, many more.
Anything for Love – The Meat Loaf Story is back by popular demand on Saturday 18 November with an incredible stage set, ten-piece live band and of course, Steve Steinman's well-known sense of humour and stage presence. The show will have you up on your feet dancing and singing out loud to some of Meat Loaf's greatest hits including Anything for Love, Bat out of Hell, Paradise by the Dashboard Light, Took the Words Right out of my Mouth, Two Out of Three Ain't Bad, Dead Ringer for Love, Total Eclipse of the Heart and many more.
You'll enjoy plenty of laughs and festive magic with our 2023 pantomime, Beauty and the Beast, which runs from Saturday 25 November to Sunday 31 December. One of the most popular fairy tales of all, Beauty and the Beast is the story of Belle who finds herself imprisoned in an enchanted castle by a prince who has been transformed into a hideous beast by an evil sorceress. Can Belle see beyond the beast's appearance and fall in love with her captor? Will the beast return to the world he once knew and win the hand of the girl who has melted his heart? Heading up our cast this Christmas is children's TV royalty, Dani Harmer, best known and loved for her role as Tracy Beaker in the CBBC show of the same name. Also taking up residency with us once again for Christmas is comedian Adam Moss - this time as Louis La Plonk.
Tickets for all shows can be booked online 24/7 at the Palace Theatre website or you can visit or call the friendly Box Office team on 01623 463133. We can't wait to see you soon.